Posted on
October 26th, 2016
by
This past summer, we were treated with a brand new Ghostbusters movie featuring a different story and an all-female team.  While I don't think it was nowhere near as good as the first movie, I still laughed a lot and it was considered a comedy, so I guess it did its job.  Plus, the new movie helped bring back my favorite childhood drink: Ecto-Cooler, so it's all good.  And now you can play the movie in LEGO form with the LEGO Dimensions Ghostbusters Story Pack.  Not to be confused with the LEGO Dimensions Ghostbusters Level Pack, which I reviewed earlier this year.  LEGO Dimensions and all the sets that go with it are playable on nearly all the current home game consoles, but reviewed on Wii U here.
So what is LEGO Dimensions?  It's essentially like Skylanders except the figures you get are made out of LEGOs that you must build.  I even wrote a big article about LEGO Dimensions a while back that you can read if you want more information. Anyway, here is the box that the Ghostbusters Story Pack comes in.
So what do you get in the Ghostbusters Story Pack?  Well, first, you get a new backdrop you must build to decorate your portal pedestal with.  Here's a shot of the original LEGO Dimensions portal, which looks a bit like that thing in Stargate.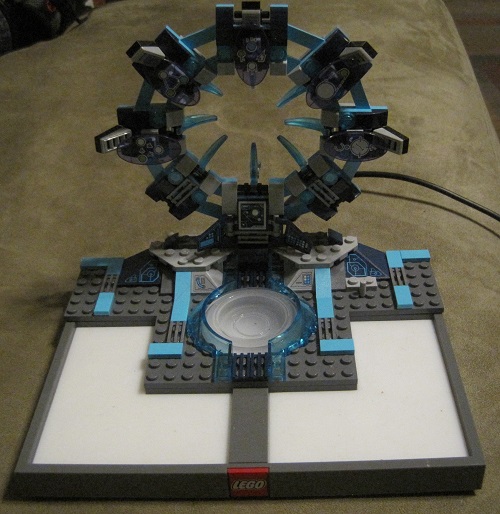 And here's a shot of the new Ghostbusters portal.  It just snaps on top.  It's the front part of the Chinese food restaurant where the new Ghostbusters have their headquarters through most of the movie.  What's really cool is that the doors slide open and shut!
You also get two figures to build.  The first is a playable character, and one of the new female Ghostbusters, although I can't remember any of their names (they're not quite as memorable as the original team).  You also get to build a new Ecto-1 once you play the story.  Here is a shot of the figures.
Once you start playing, you'll have the option to download the assets for the new Ghostbusters levels and hub world, so you'll have to make sure you are connected to the Internet.  Also make sure you have plenty of space on your memory card, as the updates hog a lot of it.  Luckily the game makes it fairly easy to manage your update data, as you can download and erase updates via one of the new menus.
While the first Ghostbusters Level Pack just had one new level, the Story Pack has six stages based on the new movie.  You also get to enter a new hub world as well, and this one is a bit better than the original Ghostbusters hub.  With six levels and a hub world connecting them, it's like getting half a full LEGO game, so that's pretty good.  While you build only one figure, you can switch to play as any of the four Ghostbusters, each with their own skills and abilities.  Gameplay is like any other LEGO title, and you can also bring in any other figure or vehicle into the levels as well.  Want Homer Simpson to join the team?  You can do it here!  While the levels follow the plot of the new movie, they add a lot of LEGO humor and have plenty of guest appearances from other LEGO Dimensions worlds.  There will even be spots that you must use certain other characters to unlock goodies and such.  The hub world also has extra side missions for you to earn more gold bricks and other stuff.
The new levels also add a few new features to the portal itself as you play.  For instance, at some points you'll be able to move your figures to warp to different ghost realms to solve puzzles.  Only problem is that like the main LEGO Dimensions game, using the portal features isn't very intuitive all the time.  I also don't like how expensive these sets are, but LEGO toys tend to be pretty pricey anyway.  But other than that, it's a really fun add on for LEGO and Ghostbusters fans, and helps keep the Dimensions game fun and fresh.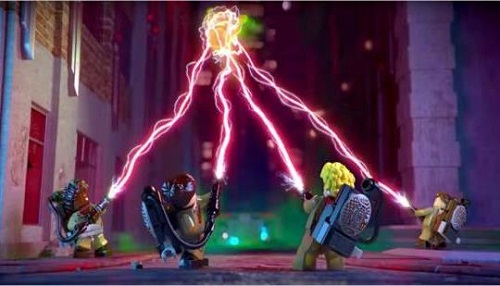 Kid Factor:
LEGO Dimensions is rated E-10 with ESRB descriptors of Cartoon Violence and Crude Humor. While the Ghostbusters movies might be too scary for very young kids, the LEGO version takes the spookiness away and replaces it with silliness and fun.  While I would recommend most LEGO games to all ages, I think LEGO Dimensions is best for older kids.  One, the things you build are pretty complicated sometimes, so they would need to be experienced LEGO handlers.  And like other LEGO toys, the sets are pretty expensive so kids would need to know how to keep up with and take care of their toys, as the game is useless without them.  And plus using the pedestal is not very intuitive.  Also don't forget the whole choking hazard thing with small LEGOs!