Posted on
December 2nd, 2016
by
Skylanders is super huge here at GamerDad.com, as it is the first of the 'toys to life' games to come out.  The game series is extremely popular, with a Macy's Thanksgiving Day Parade balloon and now a new cartoon on Netflix.  And now they've released the sixth main game in the series!  Have you ever wanted to create your own Skylander?  Nah, me neither.  But when I was a kid, I doodled all sorts of Pac-Man mazes in my school notebook, and created all sorts of imaginary Mega Man bosses.  So I imagine kids today would definitely be into creating their own Skylanders.  And that's just what you do in Skylanders Imaginators.  It's available for nearly all the current home game consoles, but reviewed on PS3 here.
The evil Kaos is at it again, and this time he's discovered Mind Magic and is creating his own Doomlanders to wreak havoc on the Skylands!  It's up to you and the Skylanders to stop him.  In this one, you can even create your own Skylanders!  Here's a shot of the front of the box:
And here's everything you get in the box.  The game comes with two Skylander Sensei figures: King Pen and Golden Queen (wasn't she the villain in Trap Team?).  You also get a Fire Creation Crystal, which is the Skylander figure you'll use to create your own fire type Skylander.  You also get the game, of course, as well as a basic Portal of Power, which you use to place the figures on when you want to play as them in the game.  You also get a poster which shows you all the new Skylanders you can collect, as well as instructions and stickers.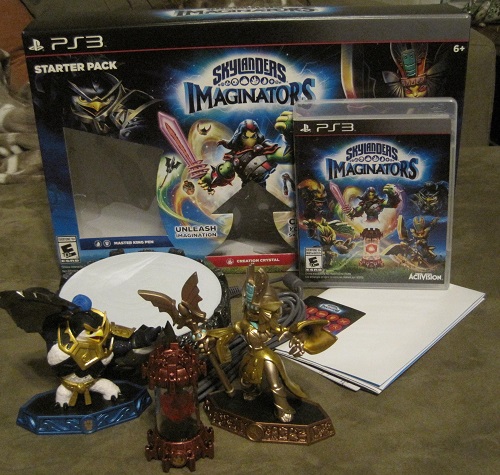 Skylanders Imaginators plays a lot like the old arcade game Gauntlet (with a little bit of the LEGO gameplay thrown in), and it's also pretty much exactly like the other Skylanders games, too. You move the Skylanders around various areas and mazes, defeating hordes of enemies, solving basic block pushing puzzles, and collecting hidden rare treasures (two can play at the same time, too). Each character has different attacks, and they are based on elements like fire, water, earth, wind, magic, undead, and so on. As you defeat enemies, you'll earn experience points that will help you gain levels and increase your stats. Collect treasures to buy upgrades and new attacks and moves.  Tons of mini-games to tackle, too!
Here's the really cool part: Any gold and experience points you collect during the game is saved onto the figure. Then you can take it to a friend's house and play on their console. It doesn't matter if they have a different game system, your figure will work on any of them (with a couple of exceptions).  Note that new figures and vehicles won't work with the first five games, but old figures will work with the new sequel. There is a separate racing mode in Imaginators that lets you use your vehicles from the last game, but I didn't get a chance to try it because all the vehicles I have are from Nintendo characters, and the version of Imaginators I'm reviewing is on the PS3.
There are two new additions to Skylanders Imaginators.  The first is, of course, being able to create your own Skylander.  Just place the Creation Crystal on the Portal of Power pedestal and you can press select to bring up a menu where you can edit your Skylander.  What's cool is when you put it on the pedestal, the crystal lights up and pulses.  I tried to take a picture of it: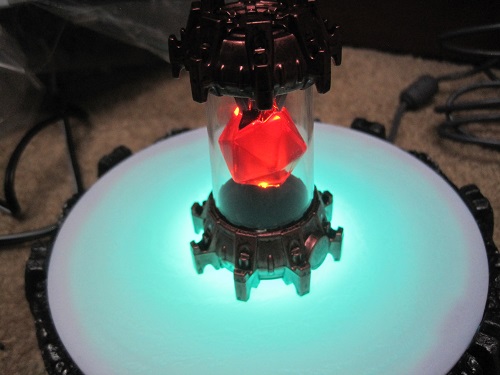 The creation mode isn't as robust as say, Soul Calibur V's character creation mode, but it's still pretty meaty.  When you start, you'll choose the fighting style of your Skylander (brawler, sorcerer, archer, etc.).  This and the element are the only permanent things that you can't edit later.  After that, you can choose your Skylander's head, ears, armor, arms, legs, body, tail, voice, music, sound effects, color, and more!  As you play the game and complete missions, you'll earn special treasure chests that have new parts you can use to create your Skylander.
The other new aspect in Imaginators are the Sensei Skylanders.  This game comes with two, and they have both an element affiliation and a fighting style, just like the Imaginators do.  The figures are also a bit bigger in size, almost as big as the Giants figures.  Senseis can unlock special elemental shrines and strike gongs which can start battles.  When you complete an adventure or battle in these places, you can earn special moves and other parts to create your Imaginator with.  The more Senseis you have, the higher level your Imaginator can reach, too.
One other interesting thing about the Sensei Skylanders.  In the last game, if you owned a Nintendo version of Skylanders Superchargers, you could play with figures based on Donkey Kong and Bowser.  In this game, it looks like Sony players get the better deal, as you can get Sensei figures based on Crash Bandicoot and Dr. Neo Cortex.  I haven't seen these figures in stores, and I can't find them online, so I don't know if they were part of a special edition, if they're really rare, or even if they're out yet.  But I just thought it was kind of interesting.
I do have a few problems with the game, though.  I don't like that you have to buy separate creation crystals for each of the elements in the game, and that you have to pick a fighting style for your Imaginator and can't change it later.  Also, the starter pack comes with a basic Portal of Power pedestal, but it doesn't have a place to put the Trap Team figures.  The instructions say you have to use an old Trap Team pedestal if you want to use them.  Which is disappointing.  Heck, even the Superchargers pedestal had a Trap Team slot.  Also, you can go to the PlayStation Store very easily from this game to buy more parts for your Imaginator.  It's disappointing to me that even Skylanders has sunk to having in-game purchases.  I'll be adding a bit about that in the Kid Factor.
One last little minor quibble that really doesn't affect the game is that in past entries in the series, you were guided around by Flynn, who was voiced by the talented Patrick Warburton (The Emperor's New Groove).  Flynn is still in the game and voiced by the same actor, but he has a smaller role here.  I wonder if they're trying to phase him out?  Anyway, most of the time in this game, you are guided around by other Skylander characters.  Which is fine, but if you are playing as Spyro and Spyro is also telling you where to go, it's a little weird.  But the game is still a lot of fun for kids and Skylanders fans.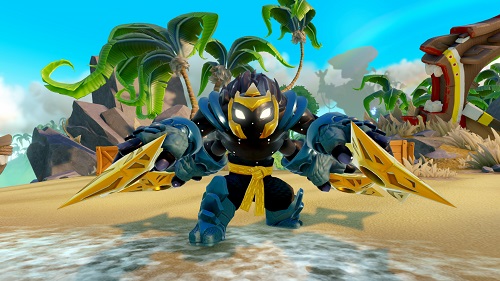 Kid Factor:
Skylanders Imaginators is rated E-10 with ESRB descriptors of Cartoon Violence and Comic Mischief.  While you do smack around monsters and bad guys with punches and weapons, and blast them with fireballs, water, and other projectiles, enemies just disappear when defeated. Reading skill isn't totally necessary as everyone has spoken voices. Parents may need to help set everything up initially.  And parental supervision is recommended for the in-game purchases, as mentioned earlier.  Or at least you'll have to learn how to set up the parental controls on your console.
But the real question about if this game is suitable for your kids has nothing to do with the gameplay. These games require the Portal of Power pedestal and the figures to play. If your kids break or lose any of these items, they won't be able to play the game. So ask yourself this question: Are your kids good at keeping up with, taking care of, and not losing their toys? If the answer is yes, then they are ready for this game.
Aside from that, kids can play it together with their friends, siblings, and even parents! Sure the Skylanders games are a bit of a money-sink and the gameplay isn't totally original. But I still think this is one of the best kids' game franchises out there today. I think it would make a great birthday present or a surprise under the Christmas tree this year.  And being able to create your own Skylander encourages creativity, which makes the game almost educational.
Skylanders Academy
While we're on the subject of Skylanders, I'll just cram this piece of news in here as well.  Skylanders has its own cartoon now!  It's about time, right?  I figured they'd have a cartoon much sooner.  Anyway, it's on Netflix, and features popular Skylanders characters as they learn at the Academy while trying to stop Kaos' evil plans.  It's a pretty decent computer animated series, but I don't like how cocky Spyro is in this show, and Patrick Warburton's character Flynn is nowhere to be found (maybe they really are trying to phase him out).  But the cartoon still stays true to the game.  Heck, there's even an episode based on the Imaginators, and Crash Bandicoot makes a guest appearance on another one.  I wonder if that's Crash's first appearance in an animated cartoon?
Skylanders Museum
I've been lucky enough to be able to review all the main games in the Skylanders series.  I'm honored that Activision has sent me review copies of every game, including this one.  Be sure to check out my other Skylanders reviews.  If anything, it'll give you a better understanding of what the series is about if you're not as familiar with it.