Posted on
January 2nd, 2017
by
Game publisher Bethesda has quite a few well-known properties and beloved franchises, and now you can play pinball tables based on three of their biggest games: Skyrim, Fallout, and Doom.  You can download and play the new Bethesda Pinball pack on consoles that support Zen Studios pinball platforms (reviewed on PS3 here). When you download Pinball FX 2 or Zen Pinball 2 (depending on which game console you own), you're just downloading the hub.  It's free, and then you purchase separate tables for play in the game.  Here are the three tables in Bethesda Pinball.
The Elder Scrolls V: Skyrim Pinball
What's really cool about these tables is how close they made them feel like the actual games.  Before you even start your game on this one, you must select a character class, like Human Knight, Elven Archer, etc.  Once you start, you'll battle lots of enemies including dragons, guards, mages, and even more dragons.  When you complete quests, you can level up and even earn treasure like weapons and armor.  Hold down the launch button to bring up a menu, and make your selections with the flipper buttons to equip goods.  And when it's Game Over, you can still continue the next game with your levelled-up character!
Fallout Pinball
This table is mostly based on Fallout 4, the latest in this post-apocalyptic series.  Like the Skyrim table, you can choose your character (male or female), and divvy out points to attributes like strength, agility, etc.  You can even pick a companion helper.  But unlike the Skyrim table, I don't think you can keep the character after you lose all your balls.  You can take on missions from different factions when they are available, but keep a watch out for your health and radiation levels.  Shoot up ramps to refill your health with Nuka Cola and hit targets to collect bottlecaps that you can spend at the shop for more goodies.  I only wish the shop were easier to access, though.
Doom Pinball
Surprisingly, out of the three tables, this one's my favorite.  A problem I had with the other two tables is most of the field is filled with ramps and doesn't leave much room for the ball to roll around.  But this table is a bit simpler and has more space.  It's also easier to reach the little mini-table, where you use flippers to move a rock around to bounce the ball into rune targets for points.  You can also hit the ball to destroy moving enemies, like demons.  And you can get special weapons that activate when your ball goes past the flippers.  Then the screen will go into a first-person mode and you can aim and shoot the ball at ramps and targets more accurately.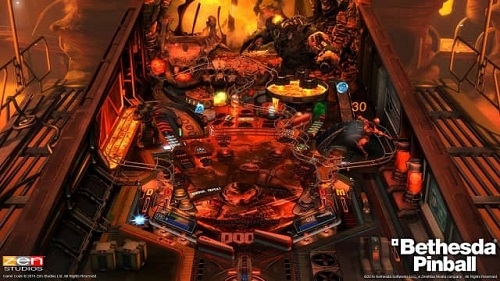 Kid Factor:
All Zen Pinball games are rated E-10 with ESRB descriptors of Fantasy Violence and Mild Language. While these tables are fairly safe, they are based on rated M games, and there are some scary monsters and sound effects that might frighten very young children.  Reading skill is helpful for some of the rules and menu texts, but not necessary just to play.