Posted on
January 27th, 2017
by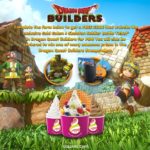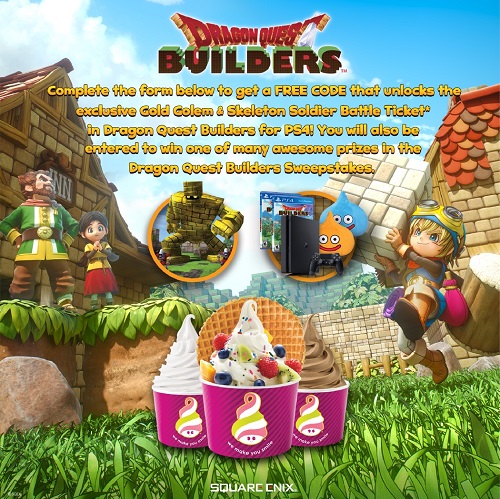 Menchie's Frozen Yogurt is teaming up with Square-Enix to give you a chance to get goodies for their new PS4 game Dragon Quest Builders, and you can enter a sweepstakes, too!  The promotion ends at the end of January, so sorry that I posted this a little late in the game.  But feel free to click here for more details and to see how my local Menchie's decorated for the event.
So anyway, Dragon Quest Builders is like a cross between a Dragon Quest game and Minecraft, but the game is creative and fun enough to stand on its own.  I got it for Christmas and my brother Jeff just loves the game.  So one day in January we went to a nearby Menchie's to check out the promotion.
So anyway, all you have to do to enter the sweepstakes is sign up for Menchie's customer rewards program.  You can do it online or in store.  When you do, you'll be entered to win prizes like a PS4, copies of the game, or slime plushes.  You'll also a code that unlocks a Gold Golem and Skeleton Soldier Battle Ticket for the game.  To register you'll have to give your email and phone, so kids should make sure to ask their parent's permission, naturally.  I signed up and entered the contest, and it was pretty easy to do.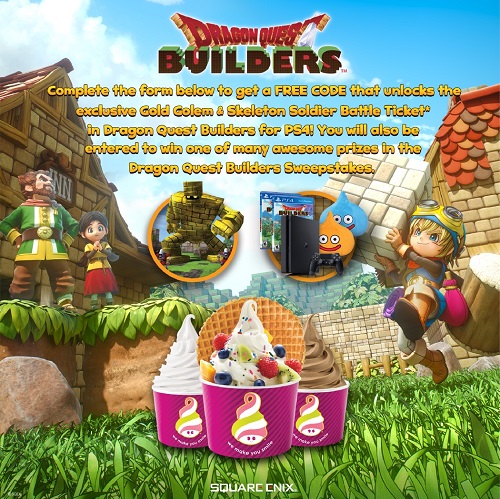 Anyway, my brother Jeff and I went to a local Menchie's to see the Dragon Quest Builders promotion, and I took a few pictures.  It's not as good as when Yogurtland did a Nintendo promotion last summer, but they still had some interesting stuff.  Here's a big Dragon Quest Builders window decal they had.  Sorry it's a bit glary, but it was hard to take a picture with the sun outside.
Above some of the flavors you could pick, they had signs with characters from Dragon Quest Builders, and it would say that certain character's favorite flavor.  So the characters were the Builder, Pippa, Rollo, and a Slime.  I imagine most customers who come in to Menchie's probably don't know what Dragon Quest Builders is and they would look at those signs and think to themselves, "Who the heck is Pippa and why should I care if her favorite flavor is Strawberry?"  I bet the employee who was working there probably thought my brother Jeff and I were weirdos when we came in and joked about the signs and such.  The Slime's favorite flavor was Cookies & Crème, and that's what I got since it's one of my favorite flavors as well.  Heck, if it's good enough for the Slime, it's good enough for me!  Although that carrot cake flavor next to it sounded good, too.  I may have to get that next time when I go.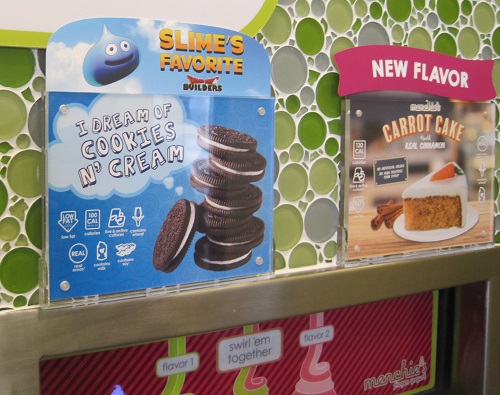 You could also get a Dragon Quest Builders ice cream cake, but you had to special order it, according to what the employee said.  I'm not sure how you would do that, but I know a couple of people who have birthdays in January who would probably like a Dragon Quest Builders cake.  Well, maybe.
I was kind of hoping they'd give out special Slime yogurt spoons or something, but they didn't. Although the regular Menchie's spoons were kind of neat.  The cool thing is that the employee there said the workers got buttons to wear, and she wasn't going to wear hers, so she got a couple of the buttons for me and my brother Jeff.  So that was nice.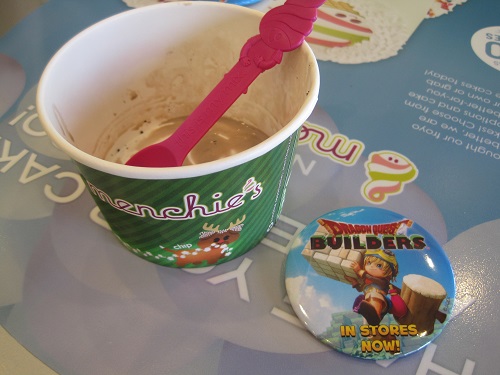 So anyway, that was my trip to Menchie's to see the Dragon Quest Builders stuff.  Hope you enjoyed the pictures!  Later!  –Cary