Posted on
February 3rd, 2017
by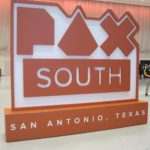 So at PAX shows I attend a lot of meetings with game companies showing off their new games, and that's why my Part 1 article was mostly about.  But I also take a lot of pictures that aren't related to any of that stuff, but are still cool.  So we'll be looking at all that stuff in Part 2 of my PAX South 2017 article.
Jinx
So there is an online T-shirt and apparel company called Jinx.  They were at PAX South this year, but before I left for the show, I got an email from them saying that they would like to send me some of their clothes to wear at the show.  So I said, sure.  I did wear their shirts at the show, so here are some pictures proving it.  But first, here was a giant bespectacled skull at their booth.
Here is me and my brother Ben wearing a couple of the shirts they sent me.  I'm the one on the left with the shirt with pixel video game controllers on it.  Ben's wearing the hoodie.
And here's Ben wearing another one of the shirts.  He makes a much better model than me.
And here's the back of the shirt I wore on the last day we were there.
So what do I think of the shirts?  Well, they're all right I guess.  I noticed the sizes run a tiny bit small, but other than that they're fine.  I'm not really the best person to review clothes, as I'm not much of a fashionista.  Most of my clothes come from Kohl's and Wal-Mart.  Plus, a lot of the Jinx clothes had skulls on them, and I'm not the kind of person to wear clothes with skulls.  But then, I'm probably not the target audience for these clothes, as I'm a 40-year-old man.  But all my brothers had heard of Jinx, so they must be a fairly popular company.  So if you like video game related clothes, but don't like wearing shirts with recognizable logos and stuff on them, you might want to check out Jinx.
Stack-Up.org
There is this neat charity organization called Stack-Up, and they provide the US military with video games and consoles for them to play on active duty and in hospitals and such.  They do a lot of good things, so I suggest checking out their site.  They had a contest at their booth where you could win a free game if you could do 40 push-ups in under a minute, and I won!  They also had a T-rex walking around the show as well.
Misc.
So the next batch of pictures are just things I took, but I have no idea what they were.  Like this big scary monster!
And here's an adorable little blue piggy thing.
And an inflatable giant robot dog…thing.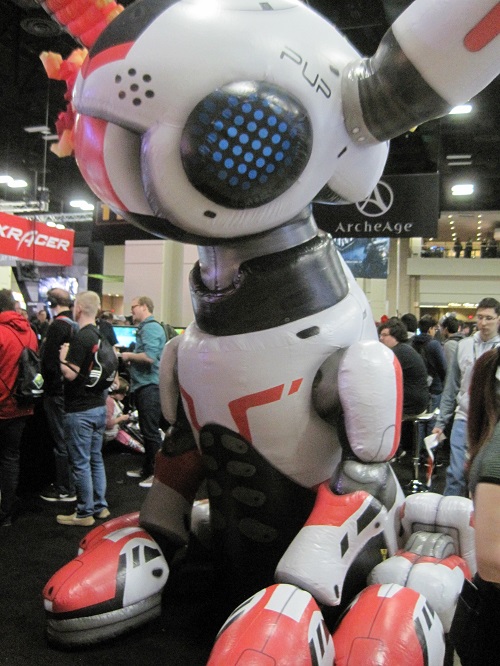 Cosplay
Some people go to these conventions dressed as their favorite video game characters.  I think it would be fun to do that, but I'm probably too old for that by now.  But I took pictures of a lot of other costumes.  There were way more costumes than what I took pictures of, but I tried to not take pictures of costumes I didn't know what they were, and sometimes I couldn't take pictures of people I saw because we were in a crowded hallway.
Of course I say that, and the first costume I show is some barbarian lady that I have no idea what she's from.
But at least I know what Chrono Trigger is!
I don't think I've ever seen an Eggman cosplay before.  That moustache has a mind of its own!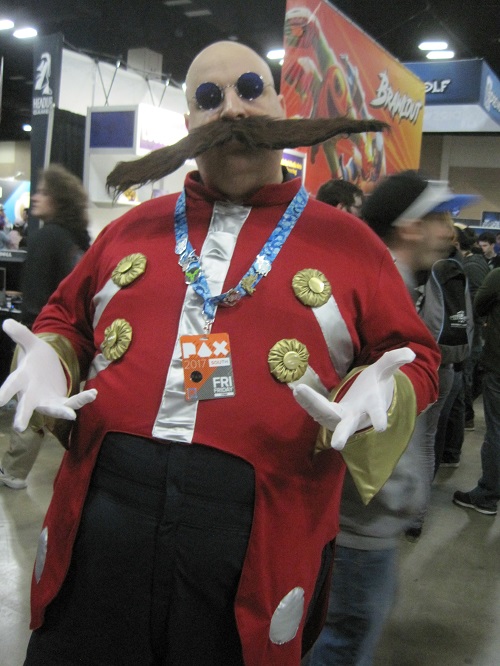 And here's the two dancing sharks.  Which one is the Left Shark?  Why the one on the right, of course!
Here's Shovel Knight checking out his own booth.
And here's Wario and Waluigi.  There were lots of Mario costumes at the show, but I figure that's because they're easy to make.
But I think my favorite costumes this year (aside from the RIME lady from the last article), were these two young ladies dressed as Shantae and Risky Boots from the Shantae games.  I hope they got a chance to play Monster Boy, since it has a lot of similarities with the Shantae games.  I also hope they brought jackets to wear after the show, because it was a little bit cold for San Antonio last weekend.
And that's all for PAX South.  Thanks for reading my articles, and I hope you enjoyed them and my pictures.  This was definitely the best PAX South yet.  But the best part of all was getting to spend time with my dad and brothers who went with me.  Let me know if you have any questions!  –Cary