Posted on
March 17th, 2017
by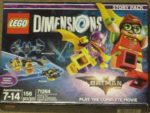 Recently, The LEGO Batman Movie came out in theaters, and it's a blast!  Not quite as good as the original LEGO Movie that it spun off from, but still a hoot and a half in its own right.  Now you can relive the action and fun of that new flick with The LEGO Batman Movie Story Pack for LEGO Dimensions.  It's available for nearly all the current game consoles, but reviewed on Wii U here.
So what is LEGO Dimensions?  It's essentially like Skylanders except the figures you get are made out of LEGOs that you must build.  I even wrote a big article about LEGO Dimensions a while back that you can read if you want more information. Anyway, here is the box that The LEGO Batman Movie Story Pack comes in.
So what do you get in The LEGO Batman Movie Story Pack?  Well, first, you get a new backdrop you must build to decorate your portal pedestal with.  Here's a shot of the original LEGO Dimensions portal, which looks a bit like that thing in Stargate.
And here's the shot of The LEGO Batman Movie portal.  It's just the Bat-Computer from the movie.  I'm a little disappointed with it since it doesn't really do much in comparison to the other Story Packs I've reviewed.  The Fantastic Beasts one had working elevators and the Ghostbusters one had sliding doors.  But the Bat-Computer really doesn't do anything cool like that.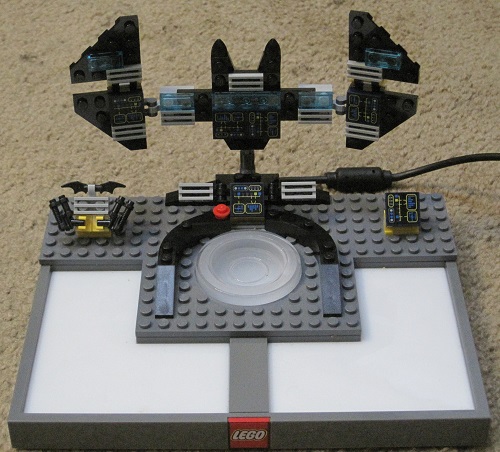 At least you get two playable characters, plus a vehicle.  You get Robin from the movie, who is actually pretty versatile.  He can use his gymnastic skills to swing on poles and fit into small spaces.  He can also repair broken machines for some reason.  Plus he can change into a Batman costume with huge shoulderpads that give him even more abilities, like being able to throw a pole to swing from, and using a shield to reflect lasers.  Batgirl has pretty much the same abilities as Batman, but she can also hack into special computers in the game.  The Batwing can fly and pull and tow certain objects as well.  Here's what the pieces look like all built and out of the box.
Once you start playing, you'll have the option to download the assets for the new LEGO Batman Movie levels and hub world, so you'll have to make sure you are connected to the Internet.  Also make sure you have plenty of space on your memory card, as the updates hog a lot of it.  Luckily the game makes it fairly easy to manage your update data, as you can download and erase updates via one of the new menus. One more thing to remember is that you also must have the LEGO Dimensions Batman figure to start the game.  This shouldn't be a problem since he comes with the Starter Pack, but if you lost your Batman figure, you won't be able to start the Story Pack at all.  They kept Batman pretty much the same, but he has a new skill here where he fires off a Bat-Merchandise gun which stuns enemies but also makes them wear Batman T-shirts!
The Story Pack has six stages based on the events of the movie.  You also get to enter a new hub world as well, which is Gotham City. It's not quite as good as the Gotham you got to explore in LEGO Batman 2, but you'll still get to tromp around downtown Gotham, Wayne Manor, an amusement park, and Arkham Asylum.  It also connects the movie levels to each other.  With six levels and a hub world connecting them, it's like getting half a full LEGO game, so that's pretty good.  While you build only two figures, you'll have the option to switch to other characters in the story levels.  Gameplay is like any other LEGO title, and you can also bring in any other figure or vehicle into the levels as well.  Want Homer Simpson to join the team?  You can do it here!  While the levels follow the plot of the new movie, they add a lot of LEGO humor and have plenty of guest appearances from other LEGO Dimensions worlds.  There will even be spots that you must use certain other characters to unlock goodies and such.  The hub world also has extra side missions for you to earn more gold bricks and other stuff.
The new levels also add a few new features to the portal itself as you play.  Like summoning parts of other LEGO worlds to help you solve puzzles.  Only problem is that like the main LEGO Dimensions game, using the portal features isn't very intuitive all the time.  And like other LEGO games, it's a bit buggy and froze up on me once, but luckily it was between levels so I didn't lose any of my progress.  I also don't like how expensive these sets are, but LEGO toys tend to be pretty pricey anyway.  But other than that, it's a really fun add on for LEGO and Batman fans, and helps keep the Dimensions game fun and fresh.
Kid Factor:
LEGO Dimensions is rated E-10 with ESRB descriptors of Cartoon Violence and Crude Humor. If you're OK with your kids watching the movie, they'll be OK with the game, too.  While I would recommend most LEGO games to all ages, I think LEGO Dimensions is best for older kids.  One, the things you build are pretty complicated sometimes, so they would need to be experienced LEGO handlers.  And like other LEGO toys, the sets are pretty expensive so kids would need to know how to keep up with and take care of their toys, as the game is useless without them.  And plus using the pedestal is not very intuitive.  Also don't forget the whole choking hazard thing with small LEGOs!