Posted on
March 22nd, 2017
by
On a rainy night, your dad sneaks out of the cottage while you're asleep, sword and shield in hand.  He set off to fight a mythical sea monster called Oceanhorn, but you never heard from your dad again after that.  Years later you set off to do the same thing, sailing from small islands to collect gear and magical emblems to help you on your quest.  If this sounds a lot like Legend of Zelda, you're right, as it borrows especially from titles like Link to the Past and Wind Waker.  But even though it's a direct ripoff, is it still as good?  You'll have to read on to find out!  Oceanhorn is available to download on PS4, Xbox One, PC, and mobile devices, but reviewed on PS4 here.
Your nameless hero can swing his sword, hold down the button for a spin attack, and block with a shield.  You can also use tools like bombs and arrows, as well as magic spells.  You'll gather clues in towns as well as meet bird and fish people, too.  You'll explore caves and temples and solve block pushing puzzles to find keys and special items to help you on your quest.
The main difference from this and Zelda titles is that Oceanhorn is viewed from a isometric 3-D perspective.  You also earn experience points from defeating enemies, and can earn a bunch more from completing certain objectives, which shows the game's mobile roots.  But other than that, it's pretty much a Zelda game.  The only main problems I had with it is that the isometric view made it a little hard to navigate sometimes, and the goals and objectives aren't as clear in places.  But other than that, it does a good job of imitating Zelda, including the fun!  If you enjoy Zelda games, you should definitely give this one a try as well.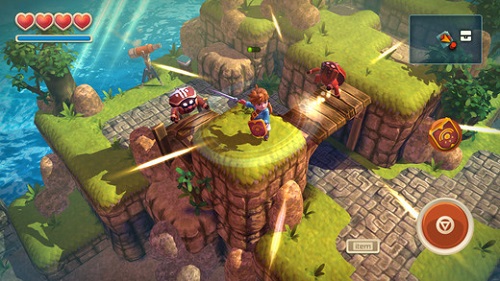 Kid Factor:
Oceanhorn: Monster of Uncharted Seas is rated E-10 with an ESRB descriptor of Fantasy Violence.  You can hit enemies and monsters with your sword and other weapons and magic, but defeated characters just fall over and disappear.  Reading skill is needed for the text, and younger gamers may have trouble with some of the tougher puzzles.  But the game is pretty forgiving if you die, just starting you off at the last checkpoint with all your items intact.  If you're kids are well-versed in Zelda titles, they'll be fine here, too.