Posted on
May 2nd, 2017
by
Emphasizing story and setting over combat, the 1999 role playing game Planescape: Torment is near the top of every list of all time best RPGs. It flips the genre on its head as you start by waking up from death, without a clue of who you are or where you came from. This information is slowly gained as the story progresses and players have the opportunity to solve most problems without having to resort to combat. Lauded for its story and depth, Planescape: Torment is a must-play game for RPG fans and the new, graphically enhanced edition (playable in 4k!) is a great way to experience it.
Planescape: Torment is literally a quest for self-knowledge. Waking up in the morgue you are told by your floating skull companion that you were dead just a few moments ago. The journey progresses from there. Explore the world between worlds that is Planescape as you sort out just who you are and what you are doing. What critics come back to again and again is the strength of the story told in the game. Rather than rely on artificial cutscenes, the story is carried on the back of innumerable dialogue options that let the player really explore the world on their own terms.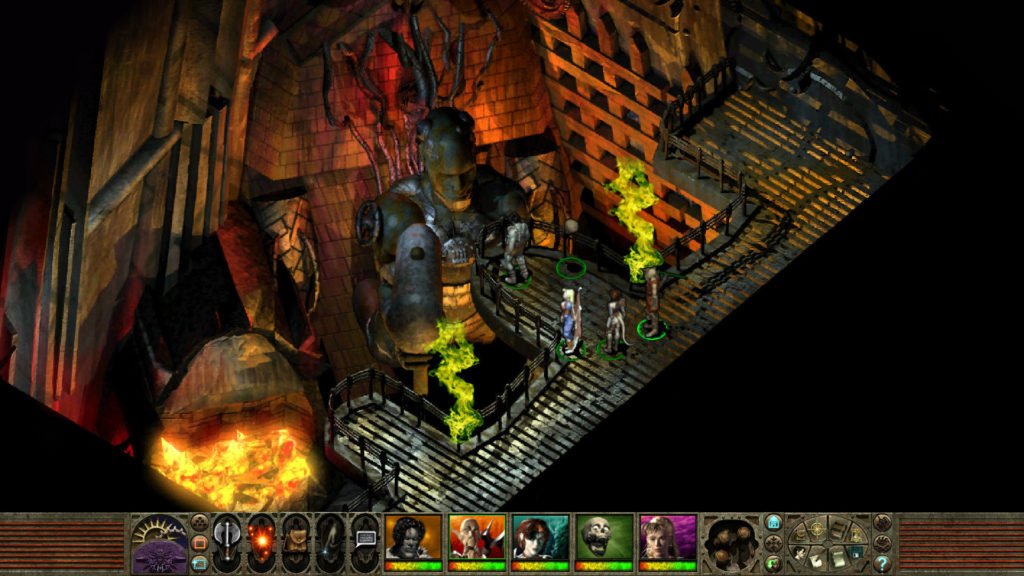 Starting out a role playing game with memory loss is a bit of a cliche. However, in Planescape this is taken to another level and the entire game is about coming to the realization of who you are (and what you may have done in the past.) For fans, it compares favorably with highly regarded literature with a depth of characterization and setting typically only found in books. Of course, as a game there is also a healthy dash of humor here and there to keep the whole thing from becoming too pretentious.
The Enhanced Edition is a reimplementation of the original but with fewer additions than previous "Enhanced Editions" like Baldur's Gate or Icewind Dale. No new scenes or areas here. What you get is a slightly fixed up user interface, squashed bugs, and the ability to play (smoothly) on much higher resolution than the 640×480 original. At the highest settings, the game still ends up a bit grainy, but the best part of this edition is the ability to "scroll out" from areas in the original game now zoomed out to show a larger area. Think of several smaller screens stitched together to make a bigger tableau that can be seen all at once. Planescape has always had some great, unique scenery and this edition gives it an even greater impact.
Verdict:
Planescape: Torment stands as a seminal work in the computer role playing genre. While it lacks graphical glitz and polish of current RPG cut scenes, its dialogue, setting, and story are the envy of most modern RPGs. If you have not yet played the title, this is the best way to enjoy it. If you are a fan, the game stands up well to the vagaries of time. If you're a hardcore fan who replays the game every few years, there is little here in the "Enhanced Edition" other than the option to play on more systems with a bit of a spruced up interface.
Kid Factor:
Even more than other Dungeons and Dragons titles, Planescape: Torment has a darker side. Sure, there are the typical demons and devils around, but the whole idea of an immortal is taken to a somewhat macabre level. As an immortal, you rise from the dead every time you are struck down – so sometimes you can purposely die, just to see the overall effect. So while the game doesn't emphasize combat, it has a bit more there to concern the squeamish among you. Of course, the game has LOADS of dialogue and written story so good reading skills are a must. I'd recommend the game best be tagged as something for an early-teen (not pre-teen) age bracket (or higher.)