Posted on
June 26th, 2017
by
Guilty Gear is a series of 2-D one-on-one anime-styled fighting games.  They feature a wide variety of interesting characters, This new game isn't really a sequel, but more of an expansion pack of the last game that was released a couple of years ago.  You get all the DLC that has been released so far, as well as familiar characters like Baiken and even some new modes!  And the announcer yells the name of the game on the title screen, so I finally get to learn how to pronounce "Xrd" (it's like "Zard" or something).
In the Battle Section are three modes to choose from.  You can compete in various matches online.  Arcade Mode is a single player avenue where you play through each character's storyline as they battle an assortment of fighters. There is also a Dojo where you can play through an extensive interactive tutorial as well as take on challenges and missions.  And finally is M.O.M. Mode.  It's a unique single player mode where you collect medals after knocking out your opponent, and then use those medals to upgrade your character.  It just adds some complexity and difficulty for those who want that.
There is also a Story Mode, but it's not what you might think.  It's just reading a bunch of text about the aftermath of the characters and settings in Arcade Mode, so you'll want to play that first beforehand.  But Story Mode does have a lot of full animation and voice acting, so if you like anime cartoons with lots of convoluted storylines, you'll enjoy this part of the game, too.  Especially if you like the Guilty Gear characters.  You can also read up on the characters and history of Guilty Gear with the glossary-like G.G. World.
The Collection area has a bunch of other options, like editing your online profile and viewing replays.  Using the money you earn from playing, you can also buy artwork, character colors, music, and voices to view.  One new addition is Figure Mode, where you can buy and view figures of your favorite characters and change their poses and arrange them in front of backdrops.  If you enjoyed messing with trophies in Smash Bros, you'll definitely like this mode.  You can also spend your money to go 'fishing' to get new items, figures, poses, and much more.  And of course you can toggle with options and see what extra things to get in the PS Store.
One of the things that impressed me the most is the graphics.  The characters look like hand-drawn cartoons, but for certain special moves, the game's camera will rotate around even though it's a 2-D game.  This coupled with fully animated intros and win poses makes it hard to distinguish where the cartoon ends and the game begins.  It's very impressive.  Really the only problem I had with this game is that it's rather difficult, even on Easy Mode.  But if you enjoy the Guilty Gear series and are a seasoned fighter game pro, you'll want to check this one out anyway.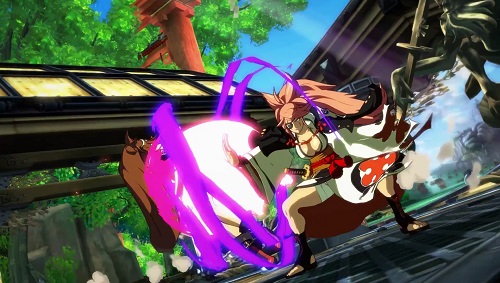 Kid Factor:
Guilty Gear Xrd REV2 is rated T for Teen with ESRB descriptors of Blood and Gore, Sexual Themes, Use of Alcohol and Tobacco, and Violence.  .  I really didn't notice too much blood, as the game is pretty cartoony.  Of course there is violence since it's a fighting game, but again, everything is pretty cartoonish.  Some of the female characters wear revealing outfits and say suggestive things, and other characters smoke, too.  There is cursing in the text and while playing, and some of the fighters are real potty mouths.  All this plus the high difficulty level make this game best suited for teens and older gamers.