Posted on
October 27th, 2017
by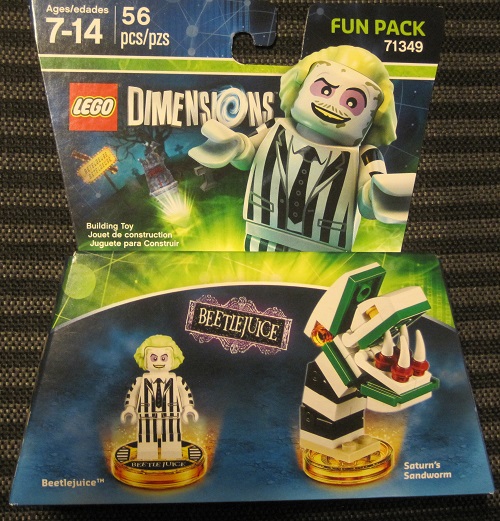 Beetlejuice! Beetlejuice! Beetlejuice!  I remember watching this movie a couple of times when I was a kid, but I haven't seen it since then. It was pretty popular, though.  So much so that they had a Beetlejuice Saturday morning cartoon when I was a kid as well.  It wasn't my favorite, but I do remember it being of higher quality than most of the other Saturday morning cartons at the time.  Plus I think I read it won an Emmy.  Now the Ghost with the Most is haunting LEGO Dimensions with the Beetlejuice Fun Pack.  It's available to play on nearly all current game consoles, but reviewed on Wii U here.
LEGO Dimensions is essentially like Skylanders, except you build and play with LEGOs instead.  I even wrote a big article about it a while back that you can read.  I've been lucky enough to be able to review most of the LEGO Dimensions packs, as WB Games has sent them to me for review purposes, including these, which I'm very thankful for.  The Beetlejuice Fun Pack comes with a character and a vehicle.  The game gives you instructions on how to build the vehicle once the character is on the pedestal.  You get Beetlejuice and the Saturn Sand Worm.  Here's a larger shot of the box.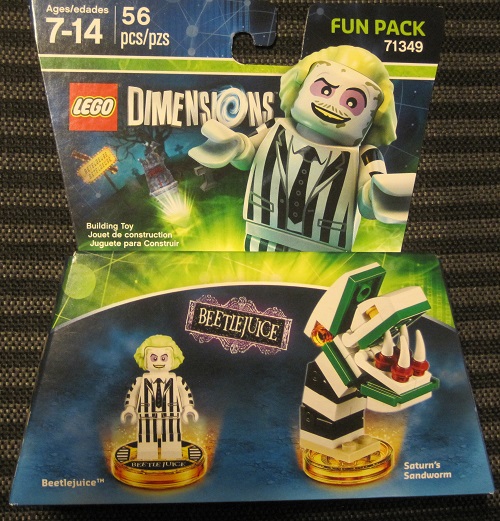 When Beetlejuice attacks, his hands turn into giant mallets.  He can also build special magic LEGO blocks, like the Harry Potter crew does.  And that's about really all I noticed out of him.  You can ride around on the Saturn Sandworm and it has some kind of scream attack.  As with other LEGO Dimensions vehicles, you can spend studs to rebuild and upgrade them.  Here's a shot of them all built and out of the box.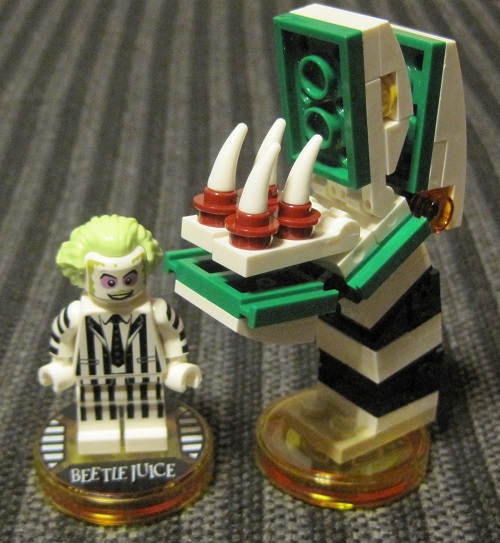 With this pack, you also unlock the Beetlejuice Adventure World and Battle Arena.  This hub world is different because it's a lot of little areas instead of one big one.  You start off in the Saturn desert and can go into a Sandworm's mouth to find the afterlife office.  There is also the house from the movie that you can go into and explore.  In the attic is a scale model of town that you can shrink down and go into as well.  This is the biggest area in the hub.  You'll find familiar locations here as well, like Beetlejuice's grave and that fly with the candy bar.  Like other hub worlds, you can spend studs to build structures and take on missions to earn red and gold bricks.  I'm sure Beetlejuice fans will find this pack a fun, silly spooky Halloween treat.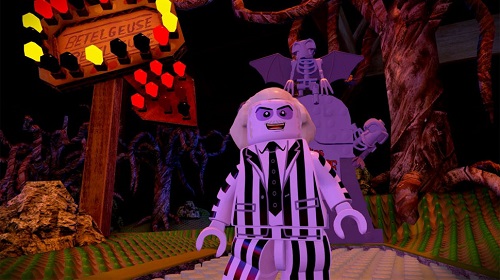 Kid Factor:
LEGO Dimensions is rated E-10 with ESRB descriptors of Cartoon Violence and Crude Humor. If you're OK with your kids watching the movie, they'll definitely be OK with this game, too.  Although from what I remember, the movie may be too scary for little kids.  But the LEGO game isn't scary at all.  While I would recommend most LEGO games to all ages, I think LEGO Dimensions is best for older kids.  One, the things you build are pretty complicated sometimes, so they would need to be experienced LEGO handlers.  And like other LEGO toys, the sets are pretty expensive so kids would need to know how to keep up with and take care of their toys, as the game is useless without them.  And plus using the pedestal is not very intuitive.  Also don't forget the whole choking hazard thing with small LEGOs!