Posted on
November 3rd, 2017
by
Kids love Pokémon.  And they have for more than two decades now.  But surprisingly, with all the kid-focused Pokémon games out there now, there is very little for the younger crowd.  Sure there have been a few games like Pokémon Channel on GameCube and the PokePark games on Wii.  But not really much for the preschool set.  Until now.  Introducing Pokémon Playhouse, a game designed for the smallest of Pokémon fans.  It's available to download on iOS and Android devices (reviewed on iPad here).  Best of all, it's a free to play game with NO in game purchases or ads!
The game is set in a playhouse, with various rooms featuring activities with Pokémon.  Tap on whatever you want to do or go, and tap and drag and drop to play the games.  Lilly, the playhouse caretaker, will guide your child with spoken voice instructions, too, so reading skill isn't required to play.
In the playroom, you can put together simple Pokémon puzzles where you drag and drop the characters to the outline that fits in the picture.  Tap on the door outside to go out at night and play flashlight tag with Pokémon.  Drag the light around and spot hiding Pokémon silhouettes to find them.  Also in the playroom are three Pokémon storybooks you can read.  Lilly will read aloud these five-minute stories, and the pictures have interactive spots where you can tap on the Pokémon and they'll do things.
In the lounge, Pokémon eat snacks and get taken care of.  Match the correct berries to the Pokémon who wants to eat them in the snack game.  In the grooming game, take care of Pokémon by brushing, washing, and putting bandages on their boo-boos when they ask for it.  In the tower, use the telescope to look at the stars and play connect the dots to make constellation pictures of Pokémon and color them in with northern lights.  Also in the tower is a stage where you can put on a Pokémon show.  Tap the correct Pokémon in the right order and they'll sing a song.
Lilly gives you a Pokémon egg to hold onto as you play these games.  When you finish a game, the egg will crack a little.  Play enough games and it'll hatch into a new Pokémon, and then Lilly will give you another egg.  You can view the Pokémon you've hatched and made friends with in the center of the foyer.  Go outside from here and you can place the Pokémon you've collected onto a playground scene.  It kind of reminds me of those old Colorforms toys.  Anyone remember those?
And that's pretty much all you do in Pokémon Playhouse.  For a free-to-play game, it's surprisingly of very high quality, so it's hard for me to find any fault with it either.  I guess some of the games don't control as well as others, like the star constellation game.  And it would've been nice if you could choose an option to read the stories yourself, or maybe make the games harder so the game will grow with your child.  But other than that, it's still a pretty darn good preschool app, I think.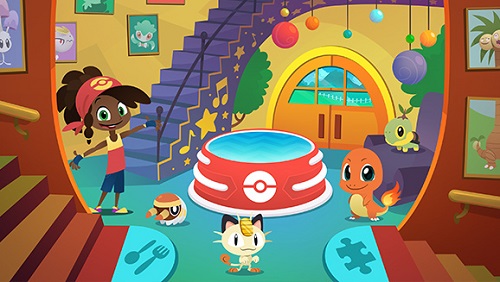 What surprises me the most is that this game is free-to-play and there are no in-game ads or purchases!  Which is good since this is a preschool game and you can feel safe letting your kid play it on their own.  But it also makes me wonder how they're making any money with this.  Maybe The Pokémon Company is thinking they can make a game for very young kids, so they'll want to buy all the games and toys and cards later on, I don't know.  But I will say that when the very first Pokémon games came out, my little brothers were very young and couldn't read very well yet.  But they wanted to play the Pokémon games so badly that it encouraged them to work hard and learn how to read so they could play them.  And I think that's a good thing, don't you?