Posted on
November 20th, 2017
by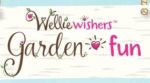 AmericanGirl is a popular line of dolls for girls, and now there is a spinoff series called WellieWishers.  The WellieWishers are a group of young girls who enjoy playing in their garden, taking care of animals, putting on shows and tea parties, and being kind to one another.  And now your girls can join in on the fun with a free-to-play mobile app for iOS and Android (reviewed on iPad here).
You'll explore their garden by swiping on the touch screen (make really big swipes because the game won't read it if you do small strokes).  Visit the club house to read about each girl in the group.  Nearby you can grow veggies by watering them each day.  But you'll have to wait 24 hours to play this game again, and all you do is tap on the screen to water and maybe remove a snail or two if you're lucky.  So it's not very engaging or rewarding.  Around the garden you can visit each of the girls in their favorite spots.  Use acorns you've collected to unlock scenes to play dress up in.  Earn acorns by growing in your garden or simply by tapping on objects on the screens.
And that's where all the free-to-play stuff ends.  Everything else you have to pay for.  To get new outfits you can play dress up with, you need to pay a couple of bucks for each costume set.  There are also two mini-games you can buy, a hidden object challenge and a tea party game, but neither of which are very interesting and the preview videos included don't give very good information on the game to entice you to play them.
I do appreciate the sentiment and good messages they're trying to convey with this WellieWishers line, but if I had a little girl at the right age to enjoy this, I'd rather spend the money to get an actual real WellieWishers doll or the books and videos.  Or a real live tea set or something.  I guess if you're on a budget this would be a good compromise since the AmercianGirl dolls are pretty pricey and the most you can spend on this game is a little over ten dollars.  But I've certainly played much better apps for kids than this.
Kid Factor:
Nothing objectionable here.  Reading skill is needed for the text, and parental supervision is highly recommended for the in-game purchases. Especially since the security block is to just type in numbers, which kids who can play this game already know how to do anyway.