Posted on
December 5th, 2017
by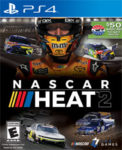 NASCAR is one of the most popular racing sports in the US, and there have been tons of video games based on the franchise.  The newest one is NASCAR Heat 2.  I haven't played the first one, so I don't know what improvements are in the sequel, but it's available for PS4, Xbox One, and PC (reviewed on PS4 here).
Play control is about what you'd expect from a racer.  It's easy enough to get into and figure out, but not so arcade-like that it feels like Mario Kart or Ridge Racer.  There are many ways to race, too.  Quick Race lets you start right away and you can pick from actual racers and tracks.  I'm not sure if all the current NASCAR racers are in here, but I think all the tracks are, such as Talladega and Texas Motor Speedway (yay).  There's also a Split Screen mode for two-player local races.  Take on a series of races in Championship mode, too.
In Challenge Mode, you must take on preset scenarios to win.  The neat thing about this mode is all the scenarios are based on real-life milestones from NASCAR races, so if you enjoy the history of the sport, you'll want to check out this mode as well as it has all sorts of videos and facts about these events.  And if you're really serious, you can try Career Mode where you must vie and wait for sponsors before you can start racing NASCAR trucks and go on from there.  It's a little too detailed for me, but for fans who want to live the experience of being a racer, this'll probably be the closest thing they'll get to the real thing.
You can also race online via Multiplayer, but you must have a PS Plus account to do so.  You can view upcoming events with the News Feed and toggle options as well.  You can even create your own car (I made mine all sickly green) and racer facial features as well (even though it seems kind of pointless since you hardly ever see your racer).  And there's all sorts of DLC you can buy in the Store if you wish.
Really the only problem I had with the game is the difficulty level curves a bit too high and it's hard to win races.  Any other problems I had are just personal preferences, as I'd rather play a racing game where you do more than just make left turns.  But I think NASCAR fans will dig it.  Casual players can enjoy the Quick Race Mode and more serious fans can dive into the Challenges and Career modes.
Kid Factor:
Nothing too violent or objectionable here.  If you're OK with your kids watching NASCAR on TV, they'll be OK with the game.  Reading skill is helpful and younger gamers may find it a bit difficult, plus parental supervision is recommended for the in-game purchases.  NASCAR Heat 2 is rated E for Everyone.