Posted on
February 5th, 2018
by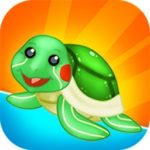 Kids can now practice their math skills while racing turtles in Tortuga Racing, available to download on iOS and Android devices (reviewed on iPad here).  Choose from six different isometrically viewed tracks (more to come later), and race three other turtles to reach first place.  Your shelled speedsters go slow at first, but you'll be prompted to answer basic math questions to make them go faster!
Before you race, you'll choose which kinds of equations to solve: addition, subtraction, multiplication, or division, or a combination of any of those.  You'll be given a choice of four answers as you race, and the quicker you answer correctly, the faster your turtle goes.  A turbo meter will also fill up with each correct answer, and when it's full, tap the turbo button for an extra boost of speed!  Just be careful not to answer incorrectly, or you'll screech to a complete stop and must pick up speed again.
After three laps, you'll win a trophy depending on how you did, and earn stars (or candy canes) as well.  If you can get a gold trophy, you'll unlock the next track.  Use stars and candy canes to buy decals to decorate your turtle's shell.  You can also change your turtle's color in the same customization screen.
Nothing really wrong with this game at all, but I do wish it had a little more content.  Maybe more tracks.  They did add a Christmas track and stickers over the holidays, and they may add more holiday and season themed tracks in the coming months.  Maybe more modes of play, too.  Instead of having multiple choice, maybe have a mode where you have to type in the correct answer instead?  Or maybe a screen where parents can track their kids' progress?  Actually I hear they may be working on a teacher's edition that may have that last feature included.  This game is great for kids who want to practice their elementary school math skills, but if you have all the modes selected at once before a race, adults may find some challenge in this as well!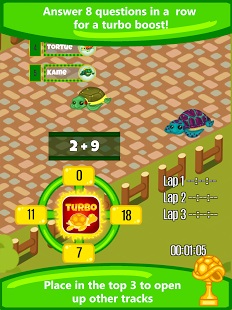 Kid Factor:
Since this game cost money to download, you don't have to worry about in-game ads or purchases.  Reading skill is helpful for the text, and number recognition and elementary math skills are a must to play.  Great for grade school kids needing to practice their addition, subtraction, division, and multiplication tables.