Posted on
March 26th, 2018
by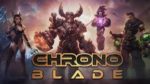 Evil has taken over the Multiverse and four warriors are here to stop it in this free-to-play mobile game that emulates an arcade style side scrolling beat 'em up.  Play as characters like Aurok the barbarian and Thera the Amazonian spear wielder as you beat up all manner of fantasy themed bad guys.  ChronoBlade is available to download on iOS and Android, but reviewed on iPad here.
After a couple of introductory levels, you'll be able to choose one of four characters and battle it out in short, bite-sized stages perfect for mobile gaming.  You use a virtual touch screen joypad and buttons for moving around and attacking.  Use the left side of the screen for moving around, and buttons on the right for fast and slow attacks, guarding, and special moves.  Special moves will count down after use, and you must wait before activating them again.  After battle, you'll earn gold and materials you can use to upgrade your equipment, armor, and skills.  You can play the main quest, try timed limited dungeons, or go head to head online and fight against another player.
While I do like the short, arcade style gameplay and it's one of the best looking mobile games I've seen, the game does have a few problems.  The touch screen controls aren't always accurate, and it can sometimes make landing attacks difficult.  I also found upgrading your equipment and stats a little too fiddly for my tastes.  But that's the free-to-play nature of a game like this.  But I think my biggest problem was that this game has very short time limits on levels, so if you don't have your equipment stats high enough, you'll never get very far.  And that roadblock happens sooner than I expected it to.  If you enjoy classics like Golden Axe, you should still download this and check it out, as it is free.  Personally I would love to see a reworked version of this game on consoles that ditches a lot of the free-to-play stuff, as a good portion of this game could be considered 'console quality.'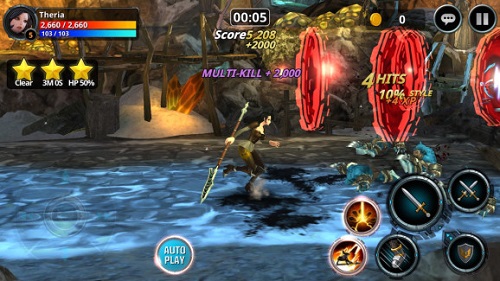 Kid Factor:
You can smack around all manner of monsters and warriors with weapons and magical blasts, but there is no blood.  Some of the characters say some pretty mean things, though, like about ripping your eyes out and such.  Reading skill is needed for the text, and parental supervision is recommended for the in-game purchases.