Posted on
May 11th, 2018
by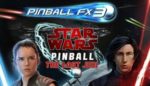 The newest in the Star Wars saga is now in pinball form on Pinball FX3!  It's available on nearly all current game systems, PC, and mobile devices, but reviewed on PS4 here.  To play Star Wars Pinball: The Last Jedi, first you need to download Pinball FX3 (Zen Pinball if you are on mobile).  Pinball FX3 is free and acts as your hub.  Then you can purchase and download tables separately.  Oh yeah, and since people are particularly sensitive about spoilers regarding these movies, I guess I'll put out a spoiler warning for this game review, too.
There are two tables in this set.  The first table, The Last Jedi, follows the events of the film.  You'll escape from the First Order by shooting the ball to destroy TIE Fighters and sending it up ramps to let the resistance ships take off, for instance.  This table has two floors on it, which is neat but the downside is that playfield is very small and doesn't give the ball a lot of room to travel.  This is what I don't like about pinball tables such as Baby Pac-Man and Mario Pinball Land.
The other table is set on Ahch-To Island.  This is where Luke Skywalker lives.  By hitting targets and shooting up ramps, you can switch between Rey, Luke, and Chewbacca, each with their own events.  You'll train to be a Jedi with Rey, and maintain the Millennium Falcon with Chewy, for instance.  And there are Porgs on the bumpers.  I like that this table gives you more room to bounce around, but it's still not super exciting or anything.  But if you love Star Wars and pinball, you'll probably enjoy these tables no matter what anyway.
Kid Factor:
All Pinball FX3 games are rated E-10 with ESRB descriptors of Fantasy Violence and Mild Language. But this is pinball and is safe and fairly non-violent and has been around for many generations.  Youngsters love Star Wars, and if you're OK with your kids watching the movies, they'll be OK with the game, too.  Reading skill is helpful for some of the rules and menu texts, but not necessary just to play.