Posted on
May 16th, 2018
by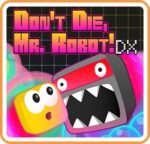 Don't Die, Mr. Robot! is an arcade style single screen action game that reminds me of a mix of classics like Pac-Man, Robotron, and Missile Command.  You play as a little yellow square robot, although to me it looks more like a slab of butter with eyes.  You must avoid enemies flying about the screen while collecting fruit.  When you nab a fruit, it'll explode in a circle which will destroy any nearby enemies.  It's up to you to survive as long as you can in this downloadable game for Nintendo Switch, PS4, Vita, and mobile devices (reviewed on Switch here).  The Switch version has a DX in the title, which according to the press release it means it has flashier visuals and extra music.
There are four modes of play.  The main one is Remix.  Here you have a set of levels, each one with a different task.  You may need to survive as long as you can, destroy a certain number of enemies or collect a certain number of fruit or coins, among other things.  You can earn bronze, silver, or gold trophies depending on how well you perform those tasks.  You'll want to get the best trophies you can, because that's how you unlock the next set of levels.  In Arcade Mode, you have one life to survive as long as you can and get a high score.  Try to last a certain amount of time in Time Attack, and if things get too stressful, you can try Chill Mode which is like a slower Arcade Mode.
Play control is simple, as all you can do is move around with the joystick.  You can boost your score by doing things like getting very close to enemies for a 'danger bonus.'  Or you can chain fruit explosions together for a score multiplier.  When you defeat enemies, they'll turn into coins, which you can then collect to buy things in the shop, like colors for your character, power-ups, and even new characters to play as!  Although those things cost a lot of coins!  It's a pretty decent arcade style game, although it's very hard and the large sprites don't make it any easier to avoid enemies on screen as you don't have a lot of space to move around!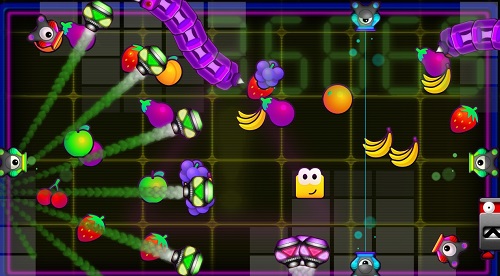 Kid Factor:
Enemies caught in fruit explosions just sparkle and disappear and turn into coins.  If you get hit, your robot just loses its color and makes a sad face while a crane picks it up and carries it off the level.  And that's about as violent as it gets.  Reading skill is helpful for some of the text, but not necessary just to play.  Younger gamers may get frustrated by the high difficulty, though.  Don't Die, Mr. Robot! is rated E for Everyone.