Posted on
June 29th, 2018
by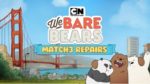 Grizzly, Ice Bear, and Panda, the three popular bears from Cartoon Network's hit show We Bare Bears, well, they've got a problem.  Construction workers have mistakenly wrecked their cave and now it's up to the bear brothers to repair their home and surrounding campsite.  You can help them by playing a match three puzzle game.  Yeah it's another one of those, but this one is pretty good for what it is.  It's available for free on mobile devices, but reviewed on iPad here.
The game has two main parts.  When you aren't matching veggies and other foods in the main game, you'll view the bears in the woods and they'll give you missions, like cleaning up an area or decorating the cave.  You can see what you need to do by checking Panda's cell phone.  Sometimes you can even choose which decorations you want to use.  But in order to do any of these things, you'll need stars.  Stars are won by playing the main part of the game: match-three puzzles!
The puzzle part of the game is like any other of its ilk.  If you've played Bejeweled or Candy Crush, you'll know what to expect here.  Match up more than three or chain combos to make power-ups appear.  You can also buy power-ups with cash you get from completing levels.  While it's not very original, they introduce some gameplay concepts I haven't seen in a match-three puzzler before, so that's pretty cool.  And it lets you play for quite a while before getting very hard (like around level 60 or so).  Many of the power-ups and gameplay rules make references to elements in the show, so fans of the cartoon may want to check this one out.  Too bad they don't use more of the baby bears, though.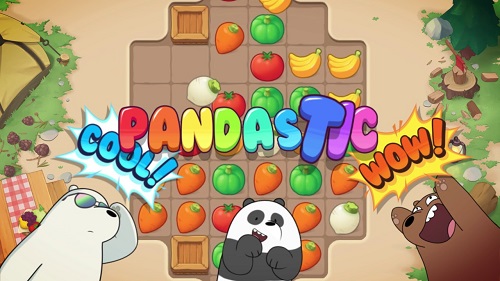 Kid Factor:
Nothing violent or objectionable here.  If you're OK with your kids watching the show, they'll be OK with the game, too.  Reading skill is helpful for some of the text, and parental supervision is recommended for the in-game purchases.