Posted on
July 25th, 2018
by
It's been a little while, but some new amiibo figures have been recently released, and of course I got them and will share them with you here.  It's Pearl and Marina from Splatoon 2!  In the first Splatoon game, Callie and Marie were the game's hosts, broadcasters, and musicians for the competitions.  But in the sequel, they've been kind of replaced by these two newcomers, who pretty much do the same thing.
Here they are inside the box.  They come in a two pack.
And here they are out of the box.  Pearl is on the left, and Marina is on the right (I think).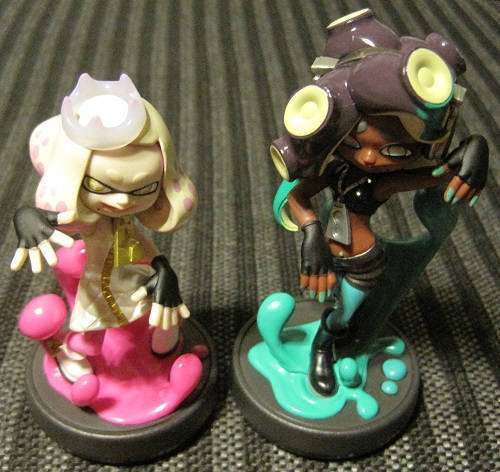 So what do the amiibo do?  Well when you scan them in the Splatoon 2 game, you're supposed to get gear based on their looks from the Octo Expansion DLC.  And you can also have your in-game character get their picture taken with them.  Speaking of the Octo Expansion, I haven't gotten it yet because I haven't had time to play it, but I also wanted to know if it's worth the 20 bucks.  I liked the single player modes in the games, but I heard this one was a lot harder.  Anyone know anything about that?  If you do, please let me know in the comments section.
And that's all for now!  Who is your favorite hosts form Splatoon 2 and the first game?  I think mine would be Marina in the sequel, and Callie in the first title.  –Cary