Posted on
July 30th, 2018
by

This is a music game from PM Studios, so you know what that means.  Lots of Asian techno tunes, but this one has a little more than that which makes it a little better.  Gameplay is similar to Guitar Hero.  Icons scroll down lanes and you must push the correct button when they reach a certain line in time with the music.  Do this multiple times to increase your combo and your score.  And that's about it, really.  It's available on Sony's consoles, Nintendo Switch, and mobile devices, but reviewed on PS4 here.
One neat thing you'll notice right away is the wide selection of songs.  I read it has over 50, and while I didn't personally count how many myself, I can believe it when I scrolled through the list.  There's also a wider variety of songs, too.  Sure there's plenty of Asian style techno tunes, but there is also a selection of classical and chiptunes as well.  I like a music game with a bit of variety in its songs.  I especially liked how in the chiptune songs, the background changes to an 8-bit looking sushi bar and little pixel girls try and catch sushi rolling down the lanes as you play.  There's also lots of ways to customize how you play, too.  You can change the speed of how things scroll down, and you can choose to have less instruments play if you make a mistake.  There are even more advanced options to toggle, too!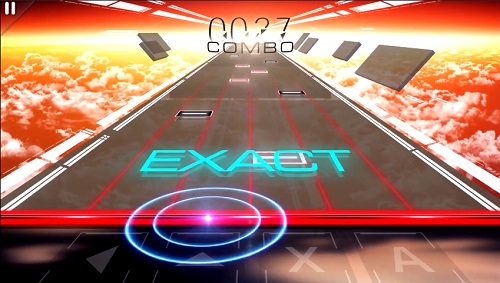 The game does have a few problems.  I didn't like how the words that indicate how well you do block the icons as they go past, making it hard to see them.  And in the 8-bit stages, they didn't even bother to translate those messages, so I don't even know if my button presses were timed 'EXACT' or whatever unless I knew how to read the symbols.  And while they give you plenty of options to make the game easier, ultimately the challenge is still very steep on most of the songs.  Only music game experts will be able to fully enjoy this one.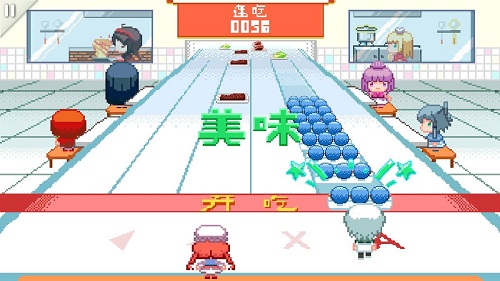 Kid Factor:
MUSYNX is rated E-10 with ESRB descriptors of Language, Mild Blood, and Mild Suggestive Themes.  Since most of the songs are in another language, I didn't really notice any bad words in the lyrics.  I also didn't notice any blood or suggestive themes, and I think the only place they'd have that sort of thing are on the 'album covers' you view in the song select menu.  But really the best reason why this game is better suited for older gamers is the high difficulty level.