Posted on
October 24th, 2018
by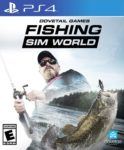 There's a new fishing game in town focusing on realism.  It's Fishing Sim World for PS4, Xbox One, and PC (reviewed on PS4 here).  Create your angler's gender, facial features, hair, clothes, and more.  Then go out to lakes from all over the world, from the US, France, Germany, and others.  Use real life rods, reels, and bait, too.  But is the game a keeper or will you want to throw it back?  Read on to find out!
After creating your character, the three main modes you can try are tutorials, free fishing, and tournaments.  The tutorials are absolutely horrible, though.  They only show you how to play, and don't let you try anything.  And the explanations go by too quickly and the controls are way too complicated enough as it is.  And even then they don't explain aspects of the game very well.  If it weren't for my stepfather Jamie (who is also an avid fisherman) watching me play and giving me advice, I wouldn't know what kinds of bait and line to use.  In a world where games don't come with printed instruction booklets anymore, good in-game tutorials are a must, and this one doesn't have that.
It's best to start out just by playing, but even that's a guessing game.  It's hard to tell what you've got equipped, and even then it's hard to know where the fish are, even though you have a radar and GPS.  So I guess that's realistic.  The graphics are also lifelike, but not very consistent in the animation.  The wake on the boat only has a three frame animation, and when you reel in your line, it can go behind and under the boat for no reason.  Really the most fun part of the game is driving your boat around.  I think the makers of this game spent more time on getting real life sponsors and products than actually making a fun game itself.
Kid Factor:
Nothing violent or objectionable here.  Reading skill is helpful for text and menus, but the controls may be too convoluted for less experienced gamers.  It may be less complicated, and more fun, to take your kids out fishing in real life rather than playing this game.  Fishing Sim World is rated E for Everyone.