Posted on
November 16th, 2018
by
The Just Dance series of games is one of the more popular console dance music games out there.  So much so that there's a new release annually, and it's time for the 2019 version to hit with more songs and other goodies.  It's available for nearly all current game consoles (and even older ones), but reviewed on Switch here.
In the game, you use motion controls to copy how the dancers move on screen, and if you can do it as close to the beat as possible, you'll earn stars and a higher score.  On the Switch you can use Joy Con controllers, since they are motion-based.  Up to six can play at once.  The controls work fairly well, but I wonder how they really register what makes a good move or not.  In the game, dancers will wear a colored glove and that shows you what hand to hold the JoyCon in.  Luckily this time they make it clear that you need to hold the JoyCon in your right hand before you play.
One thing they changed in this version is they streamlined the menus.  There are two main selections: Kids' Mode and Dance Mode.  Dance Mode is the main area of the game.  You can choose from around 40 new songs.  Most are modern hits, but some are older songs and they even have a tune from Disney-Pixar's Coco.  I always appreciate a music game with variety.  Although I do wish they had more songs from the 80's.  Luckily after a few songs you'll unlock Just Dance Unlimited, a paid service where you can access more than 400 songs from past games.  And you get a one month free trial.  Unfortunately, I always had trouble logging in each time I tried to sign up.  It always said the Ubisoft server was down.  Which was frustrating because it seems to take an act of congress to get signed up.  But that's the only problem I had with the game.
Also in Dance Mode, you can turn on and off a Sweat Mode where you can view how many calories you've burned.  You can also search for songs, view recommendations, and edit your profile.  As you play, you'll earn Mojo Tokens that you can use to spend on profile icons and other goodies.  Kids' Mode is geared toward younger dancers and features a simplified menu and ratings system, as well as specially picked songs to appeal to kids.  You know, stuff like the ABC song, Jingle Bells, etc.    While there are a few problems and the game isn't really my personal cup of tea, there's a reason why they poop out a new Just Dance game every year.  The games have a high level of quality and if you enjoy dancing to music with your friends, you should definitely check this one out.  Oh yeah, and there is a Pac-Man song in the 2019 version.  WHY DIDN'T ANYONE TELL ME ABOUT THIS???  You know how obsessed about Pac-Man I am!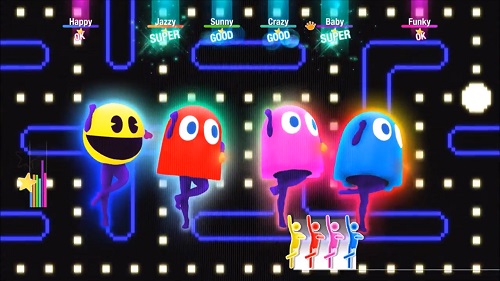 Kid Factor:
Just Dance 2019 is rated E for Everyone with an ESRB descriptor of Mild Lyrics.  But it's nothing worse than what you hear on the radio.  One of the dance videos shows an explorer pulling the ropes off of a sexy mummy dancer, and that made it into Kids' Mode, too, so some parents may not like that.  Also some of the songs in Kids' Mode are locked behind the Just Dance Unlimited service, but they still give the option to sign up for it in that mode, so parental supervision is recommended for setup and the online modes and in-game purchases.  And make sure the kids can hold onto the JoyCons without dropping them, and give them enough room so they don't bump into each other.  With up to six player simultaneous play, and the Kids' Mode, everyone in the family can get in on the act.  Great for slumber parties and get-togethers.