Posted on
December 17th, 2018
by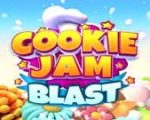 Get ready for another sweet free-to-play match three puzzle game for mobile devices (reviewed on iPad here).  If you've ever played Candy Crush, you know what to expect here.  Except this one has more of a baked goods confectionery theme.  Slide shaped colored cookies to match three or more to complete objectives before you run out of moves.  If you do run out of moves, you'll lose a heart and have to start the level over.
Objectives in each level include matching cookies to clear out waffles from underneath them, or breaking ice to free popsicles or gummy worms.  Or you may have to match special energy cookies to help an ice cream cone get to his truck, or match cookies next to scoops of ice cream to clear them away.  Match four or more cookies to make a new sweet treat to help you clear out even more things in the levels.  When you beat levels, you'll earn stars.  Get enough stars and you'll earn baking ingredients.  Use these baking ingredients to make desserts, and after waiting about 30 minutes, you'll finish them.  Make enough of these desserts to craft new balloons which take you around the map.  Every few days, you can utilize a power from these balloons to help you pass levels.
Usually in these types of games, once you run out of hearts you must wait a while for them to refill, and it gets pretty hard very quickly, forcing you to spend money to progress.  While you still must wait for your lives to refill in this game, too, they are very generous with power-ups.  Most days I can get one that gives me unlimited lives for an hour, or gives me power-ups when I win.  So there wasn't too many times where I had to wait to play.  The game does get hard around stage 70 or so, but that's not bad either.  This is certainly one of the better match three puzzlers you can play.  Just don't play this game if you're on a diet, as you might get hungry for a sweet treat afterwards!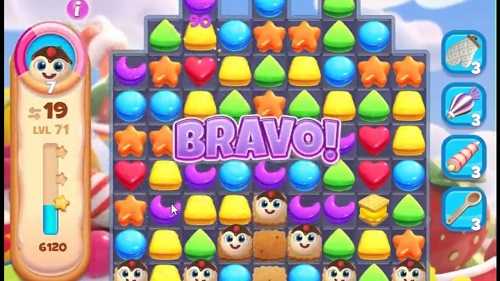 Also, this game isn't entirely new, and usually I only review new games and try to avoid reviewing too many of these same-y games.  But the makers of this one sent me a care package so I decided to throw them a bone.  But I'll share one of the things they sent me with you!  Here's a cookie recipe they sent me, pictured below.  Might be a fun thing to do with your kids over the Christmas break.
Kid Factor:
Nothing violent or objectionable here.  Reading skill is helpful for some of the text, and parental supervision is recommended for the in-game ads and purchases.