Posted on
March 11th, 2019
by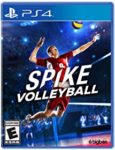 As far as sports video games are concerned, there's not a whole lot out there for indoor volleyball.  Oh sure there are a few beach volleyball games here and there.  In fact, one of my favorite sports games is SEGA's Beach Spikers on the GameCube.  But now there is a new indoor volleyball game with Spike Volleyball for PS4, Xbox One, and PC (reviewed on PS4 here).
Spike Volleyball takes a more simulation approach with more realistic controls and gameplay.  You must choose different buttons to decide which player will hit the ball, and once you do that, you must quickly decide how they'll hit it.  On defense, you can choose a formation for the players by the net to have, and then press the square button at the right time for them to jump and block the shot.  Serving is about what you'd expect.  While I do appreciate that the controls require you to use more strategy and teamwork, two volleyball staples, I also feel they controls are a bit too complex sometimes and I think the game could've benefitted with a simplified Arcade Mode.
Speaking of modes, there are plenty to choose from here.  Some of these modes overlap into one another, but the Home section is more for single players and includes Friendly Matches where you play a round with two teams.  Career Mode lets you play a whole season, and there are also weekly online challenges.  Finally you can edit your team colors and nationality.  In any mode you can also choose to play men's or women's teams.
The Play section is more for couch multiplayer, and includes a Tournament mode, a tutorial, and the aforementioned friendly matches and career.  In Online you can do ranked or friendly matches, as well as the weekly challenges.  In the Team mode you can edit your teams and manage which players you have.  There is also a Scouting Mode where you can use in-game credits to scout for new players.  After you play certain rounds, you'll have a new player to add to your team temporarily.  And finally in Options you can toggle settings and view credits.
Aside from the complicated controls, I had a few other problems with this game.  The CPU is very hard, even on the Easy setting.  And while the background stadium graphics look great, the players themselves look like they could've been done on hardware from two generations ago.  And they don't move realistically sometimes and don't even look like they hit the ball, making it hard to follow.  I think only die-hard indoor volleyball fans will enjoy this game.
Kid Factor:
Nothing violent or objectionable here.  You sometimes see the players getting hit by the ball and getting knocked down, but that's it.  Reading skill is helpful for the text, and younger gamers may find it a bit too difficult.  Spike Volleyball is rated E for Everyone.