Posted on
May 3rd, 2019
by

My latest batch of amiibo figures are a trio of echo fighters from Super Smash Bros. Ultimate: Ken, Princess Daisy, and Young Link.  Actually I'm not sure if Young Link is considered an echo fighter, as I don't get into the nitty gritty semantics and details of Smash Bros.  But anyway, let's take a look at these amiibo!
Here they are in the boxes.  Again we have Ken from Street Fighter, Princess Daisy, and Young Link.
And here they are outside the boxes.  Not much to say except the level of detail is great as always.  I like how Young Link has his wooden shield.  I think there are probably more Link amiibos than any other character now, including Mario!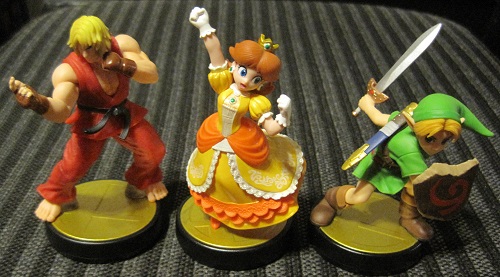 And that's all for now!  Later!  –Cary