Posted on
July 1st, 2019
by
Help a seafaring cat get the catch of the day in this simple fishing game downloadable for Switch and mobile devices (reviewed on Switch here).  Steer the cat's boat left and right at the top of the screen and press the button when you're ready to drop anchor.  When your anchor hits the water, it'll swing back and forth.  Hold down the button to make the anchor stop and move in the direction it was last pointing.  Do this to nab treasure and avoid walls and harmful critters.  Avoid hitting walls or having your line cut or else you'll have to start the level over. Nab the fish at the bottom of the screen to reel it up and beat the level.
You can earn three stars in each level. You get one star for collecting all the coins and treasure, another star for using as few moves as possible, and another for beating a level under a certain time.  You'll want to get as many stars as you can because that's how you unlock new levels.  Just watch out for obstacles like warp holes, eels that bite your line if it's moving, and ever increasing tricky wall mazes to maneuver around.  Aside from the main levels, there is a Perfect mode where you must catch a fish with one move.  And there is an endless mode where you sink your anchor deeper and deeper in the ocean while avoiding obstacles and chasing fish from above as you try and go as deep as you can.
The game does have a few problems.  The action takes place mostly in the middle third of the screen, most everything else is wasted space.  So that makes text and the swinging anchor hard to see because it's so small, especially in handheld mode.  I wish they could've made the graphics bigger.  Also the music is so annoying, as it couples Spongebob-like ukulele licks with a high pitched screamer belting out nonsense words.  You'll definitely want to turn the music off.  You can definitely tell this was originally a mobile game, but if you want a simple, mostly one-button controlled game on the Switch, Captain Cat might reel you in.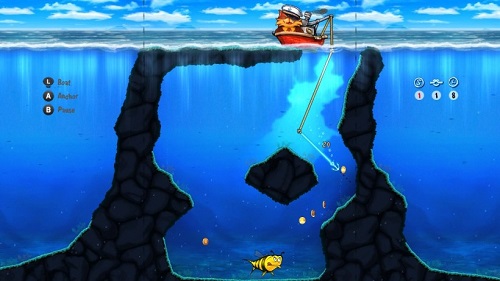 Kid Factor:
Nothing really violent here.  Even when the cat catches a fish, he'll throw it back in the water before moving onto the next level.  Reading skill is helpful for some of the text, but the game is also pretty easy to figure out just by playing.  Younger gamers may get frustrated at the difficulty, though.  Captain Cat is rated E for Everyone.