Posted on
July 10th, 2019
by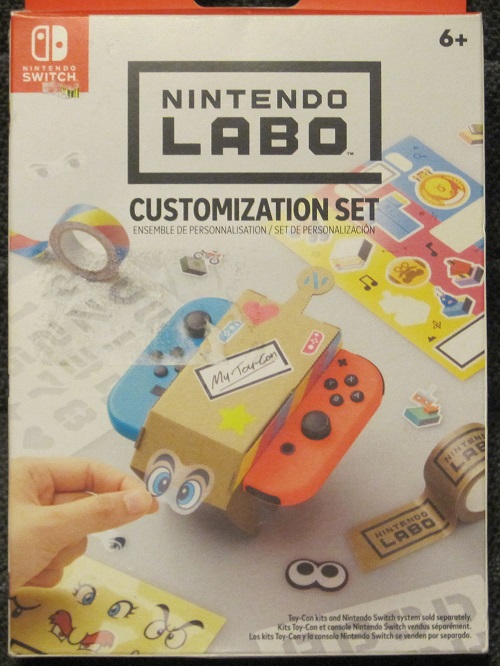 I've got a bonus Labo article for you!  When Nintendo Labo first came out, they released a small Customization Set that I didn't get then.  It was only ten bucks, and came with supplies you could use to decorate your cardboard creations after you built them.  Recently, a close relative of mine found them on clearance and bought them for me half off.  So I figured that since I wrote about all the other Labo stuff, I might as well write about this, too.
Speaking of being on clearance, the earlier Labo sets are also on sale at a lot of places I've seen.  I liked Labo, but I guess it didn't do too well.  But now you can get many of the sets for 30 and 40 bucks instead of 70 and 80 bucks.  So if you have a bored kid this summer, the cheaper Labo sets might be a good thing to get.  Here's a larger picture of the Customization Set box.  Please forgive me if it looks a bit ratty.  You know how when things get on clearance and they have price stickers all over them and it can get messy!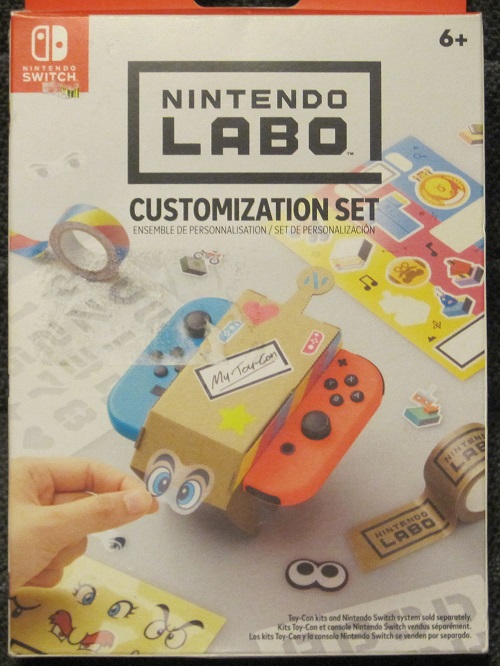 Here's what you get inside the box.  There are two flimsy stencil sheets with letters, numbers, shapes, and the word "Nintendo."  There are also two sticker sheets: one with Labo characters and one with various styles of eyes (more on that later).  And there are also two kinds of tape. One with the Labo logo and one with a rainbow pattern.
I took a closer picture of the sticker sheet with eyes on it, because I think most of the eyes, aside from the black and white dots in the middle, are eyes from various Nintendo characters.  I thought it might be entertaining for anyone to try and guess whose eyes they all belong to.  So have fun!
So is the Customization Set worth ten bucks?  Not really.  It's a bit better at half off, but I don't really decorate my Labo stuff.  They do give you lots of decorating ideas in the games, though.  Later!  –Cary