Posted on
September 25th, 2019
by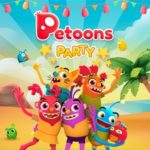 Petoons are colorful critters who love to play together and have fun.  And now you can join in with them in Petoons Party.  Up to four players can roll the dice on virtual game boards, take turns earning and losing points, and play mini-games after each round.  So yeah, it's a Mario Party clone.  It's available on PS4, Switch, and PC, but reviewed on PS4 here.
The main mode in the game is Story.  Here you choose one of four islands that will act as your board.  Four people can play at the same time, and CPU opponents will fill in the blanks if you have less.  Luckily you can fast forward through both human and CPU players to speed things along.  You choose your Petoon and take turns rolling dice and moving spaces.  Depending on where you land, you could either unlock a new mini-game, earn points, lose points, be sent back a bit, and more.  The game ends when one player lands on the special space at the end to trigger the final mini-game.  While most mini-games are competitive, the final mini-game is a co-op battle against an evil Petoon who is trying to take over that island.  If you can defeat her, you'll win the board.  The winner has the most points, and defeating the boss will unlock new outfits for your Petoon to wear.
Mini-games happen after everyone has rolled and moved once.  You start out the board with one game, and as you pass certain spaces on the board, you'll unlock other games to choose from.  Each board has 6 different mini-games and one boss game, and you must unlock them each time.  Games including carrying things from one end of the screen to another, balancing things, a Bomberman clone, a music/rhythm game, and so on.  Other modes in the game include a Cup Mode where you play all the mini-games on an island in a row once to see who can collect the most points, and you can also play each mini-game separately.
The main problem I had with the game is that many of the games are very similar.  You really only get six different games, with four variations on each, plus four different boss fights.  Plus the computer controlled players are pretty tough, even when the game is set to Easy in the options menu.  Also, the game's not too terribly original.  But it is cute and colorful and while I wouldn't recommend this one to everyone, it may entertain a group of young kids for a while.
Kid Factor:
Nothing too terribly violent here.  You can fall off platforms, dash into other players, and set off explosive fruits.  But if you get hit or fall, you just flash for a bit and maybe yell out a little "ouch."  Reading skill is helpful for the text, but not necessary just to play, as the games has picture cues.  Petoons Party is rated E for Everyone.