Posted on
September 30th, 2019
by
A few weeks ago, Nintendo surprised everyone with a new free-to-start online Switch game, and it was a Kirby title as well!  Kirby is one of my number one favorite Nintendo franchises, so of course I'm going to download it and review it!  Super Kirby Clash is an enhanced version of Team Kirby Clash, which was originally a mini-game found in one of the 3DS Kirby titles, and later got a separate Deluxe version you could download on the 3DS eShop.  If you combined Kirby boss battles with RPG aspects, this is basically what you get.  For some reason, it also makes me think of Kirby meets Monster Hunter.
You start the game off in a hub village.  You can buy weapons, armor, and items, harvest Gem Apples (more on that later), summon others to help you play, and scan amiibo figures for items.  There is also a quest board where you'll take on missions, which end up being boss battles.  You choose from one of four modified Kirby abilities.  There is the balanced sword fighter, the strong but slow hammer wielder, and two types of mages.  One focuses on healing and the other has long distance attacks that can freeze the enemy.  After defeating a boss, you'll earn experience points and items you can use to buy more stuff at the shop.  Even if you don't defeat an enemy or if the time runs out, you'll still earn experience points, just not near as much.  Try to use teamwork to revive any fallen allies, and pick up special stones that can be used to hit the bosses hard if all four players pick up a piece.
The problem with this game is that since it's free-to-play, they slow down game progression in other ways, forcing you to use real money to buy items to keep things going.  You use Gem Apples in the game to buy stuff.  Now, I haven't had a problem with running out yet.  In fact, Nintendo has given lots of opportunities to get Gem Apples in other ways.  But they set the enemy levels so high that you have to grind and grind or spend real money to keep going.  Also, each time you fight, it costs a certain amount of Vigor, and when that's depleted, you have to wait for it to fill up or use Gem Apples.  You get two Vigor meters: one for the Story mode and one for online Party mode.  Although the online modes are so laggy it's hardly playable.  Nintendo really needs to get their act together regarding this online stuff.  If they could just ditch the free-to-play aspects and allow you to just buy the game and ditch all the slow progression and nickel and diming, I might just buy this game.  But the way it is now, I lost interest very quickly.  Which is saying a lot, since Kirby is one of my favorite Nintendo series.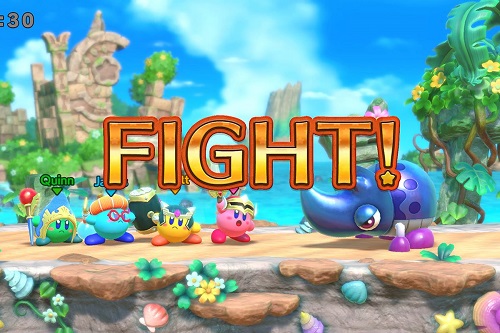 Kid Factor:
Super Kirby Clash is rated E for Everyone with an ESRB descriptor of Mild Fantasy Violence.  You can smack enemies with weapons and magic, and you can get flattened or fall over when defeated.  Kirby games are normally very safe for kids, but parental supervision is recommended for this one because of the in-game purchases.