Posted on
January 10th, 2020
by
The last thing we'll look at for this Shovel Knight Week is some new amiibo figures that came out recently during the release of the last two games I reviewed.  There is an amiibo three pack with the characters from the Shovel Knight DLC that are included in Treasure Trove, and a special surprise, too!
Here is the box of the three pack.
And here they are out of the box.  From left to right you have Spectre Knight, Plague Knight, and King Knight.  As with all other amiibo figures, they are very detailed and of high quality.  It's one of the reasons why I still collect these things.
And now for the surprise!  They also released a gold Shovel Knight amiibo.  The original Shovel Knight amiibo came out a couple of years ago and is one of the first and only third party characters to get an amiibo figure!  Here is the gold one in the box.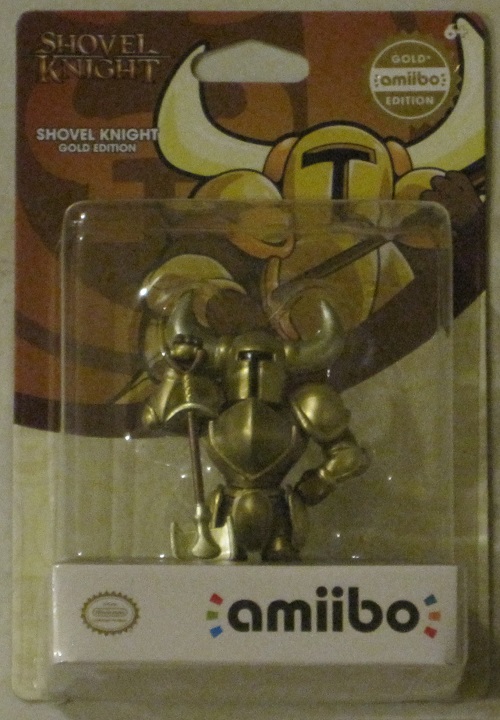 And here it is out of the box.  It does the same thing as the regular Shovel Knight amiibo, but it sure does look snazzy!
When you play Treasure Trove on the Switch, there is an amiibo fairy you can talk to in town.  You can scan these amiibo with her and it'll unlock some costumes for some characters, and you can summon a little fairy friend based on the amiibo to follow you around as you play.  It doesn't really do anything or get in the way, so you don't HAVE to have any amiibo figures to enjoy the full game.  In the Shovel Knight game on older consoles like the Wii U and 3DS, the Shovel Knight amiibo would unlock challenges but I think they're available from the get go on the Switch version of Treasure Trove.  And that's all for now!  Hope you enjoyed Shovel Knight week!  Later!  –Cary