Posted on
January 15th, 2020
by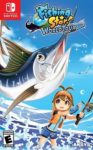 I've reviewed many fishing video games in my 20 plus year stint doing this, and I've found that the less realistic ones that are more cartoony and simple, are also the most fun!  And that's definitely the case with Fishing Star: World Tour.  While it's clearly aimed at kids, anyone can enjoy this simple yet fun fishing title exclusively on Switch.
You'll be fishing in ponds, lakes, and rivers in all sorts of locations, but none of them are from real life places.  To move on to the next area, you must catch certain types of fish.  Once you travel to enough areas, you'll face a 'boss' fish who is tougher to catch.  As you complete missions, you'll earn rods, reels, and lures you can use to cast farther and catch certain types of fish better.
Each area is a single screen but you can move left and right a little.  Move your bobber to where you want to cast, and try to cast near a shadow of a fish in the water.  Once you cast, reel in until you catch a fish.  Set the hook and start reeling in.  Make sure to point your rod in the direction the fish is going.  Do it correctly and you'll be able to reel in your fish without the line breaking.  You can tell if the line is about to break or if the fish is going to escape by looking at a meter at the top of the screen.  If it is full, make sure to stop reeling and point the rod where the fish is going so you don't break the line.  When the meter gets low enough, start reeling again.  A line will tell you when you are close to catching your fish.  Sometimes you may need to play a little mini game to get the fish closer to your line.  You may need to point the rod in a certain direction or pull on the fish when it hits the center of a circle.
You can choose to do standard controls or motion controls.  Standard controls are easier, as you must keep track of how high you hold your rod with motion controls.  But once you get the hang of that, both work well.  You can even choose to reel in with your right or left hand with motion controls.  Aside from the main game, you can view the fish you've caught in your Fish Book or check which missions you have to do and which ones you've completed in Mission Mode.  There is even a mini-game that uses the Nintendo Labo ToyCon Fishing Rod!  In it, you'll be trolling from behind a boat and must catch 16 different kinds of fish.  They won't be put in your Fish Book, though.  This mode was pretty fun as well, although it was hard to cast at first because the picture cues are misleading.
I really only had a couple of minor problems with the game, but they didn't deter from the fun I had playing.  The game is clearly Japanese, and sometimes the English translation is a little off.  "You catched two fishes!"  Also, while I'm glad the game is simple, I wish it had a little more to it to make it more immersive.  Like having bigger areas to fish in besides a single screen, or maybe a boat you could drive around.  A meter letting you know how far your fish is as you reel it in would've been nice, and a multiplayer mode would've been great, too.  And better clues as to which fish like which lures would've been more helpful.  But otherwise, this is a great little fishing game the whole family can enjoy.  And with hundreds of fish to catch and rods, reels, and lures to unlock, there is still a lot to do.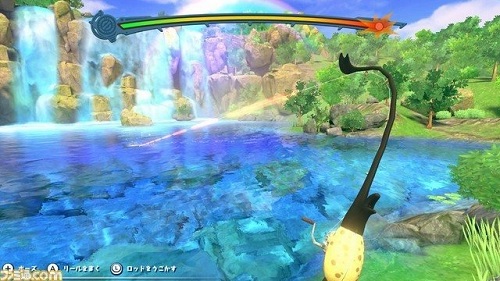 Kid Factor:
Nothing violent or objectionable here.  The game could be considered slightly educational as it shows you pictures and names of many kinds of fish.  Reading skill is helpful for the text, but with a little help, younger players can certainly figure things out.  Fishing Star: World Tour is rated E for Everyone.