Posted on
April 1st, 2020
by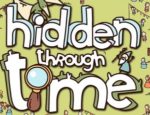 When I was little I used to read Highlights magazine.  One of my favorite pages in it was the Hidden Pictures page.  Years later I remember the Where's Waldo books getting popular.  I was a little too old to get into them then, but I sure do remember seeing them everywhere!  I wonder if those books are still around?  Well, if you liked those books, you may want to check out Hidden Through Time, an object finding game very much like Where's Waldo.  It's available on all current game consoles, PC, and mobile, but reviewed on PS4 here.
Each stage is set in a different time period, like prehistoric, medieval, western, etc.  In each level are certain items you have to find, pictured on the bottom of the screen.  But it's not that easy as each scene has a lot of stuff going on and objects everywhere!  You move a cursor with the left analog stick, and click on items with the button.  If you click on one of the items you must find, a circle will be drawn around it and it'll be highlighted at the bottom of the screen.  Find enough objects to unlock the next area and move on to the next to repeat the process.  You can also use the right analog stick to move the scene around, and the L and R buttons zoom in and out, which is super handy since everything is so teeny tiny!
One cool feature is that you can also design your own levels and share them online, as well as play others' online levels as well!  Just make sure to watch the tutorial and not skip it!  Really the only problems I had with the game are minor.  I wish they would've told me more of the controls at first because it took me a while to realize you could zoom in with the shoulder buttons.  The other problem I had was more of a personal preference.  I really preferred how they handled hidden objects in Highlights magazine where things where blended into patterns in the pictures, like a fish amidst the grain lines in wood.  But Hidden Though Time is more like Where's Waldo, where you have to find little things amongst a bunch of other little things.  And I don't like those as much and it kept me from staying interested in the game (it's also why I don't like word finds).  But again, if you do like Where's Waldo, you may want to check this one out.
Kid Factor:
Nothing violent or objectionable here.  I imagine kids would love finding the objects in the levels together, and making their own challenges for others to try.  Reading skill is helpful for the text, but not necessary just to play.  Hidden Through Time is rated E for Everyone.