Posted on
April 24th, 2020
by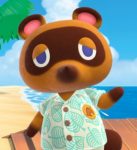 I think we can all agree that 2020 is one of the worst years in recent history.  It certain has been for me, and probably for most others, what with everything going on!  I feel like I need a vacation on a desert island.  And luckily, I kind of got that with Animal Crossing: New Horizons.  I am so thankful that it came out when it did.  It gave me a sense of normalcy and saneness during these times.  You see, the Animal Crossing game series is very special to me because it's a game I've loved playing with my friends and family over the years.  And it's not the first time an Animal Crossing game helped me cope with a rough patch in my life.  So in this blog, I thought I'd go over the other times an Animal Crossing game helped me get through tough times, and I'll briefly talk about the other games in the series as well.
Animal Crossing (GameCube)
If you're not familiar with Animal Crossing, it's a game where you play as a human and move to a remote village full of talking animals.  You spend your days there doing favors for your neighbors, decorating your house, paying off your debt by fishing, picking fruit, and collecting bugs, as well as dig for fossils and other things.  It's a very relaxing and fun game.  The game uses a real time clock so seasons and holidays change with you.  The first game on GameCube is one of my top five favorite games, too!  Sure other games in the series were vastly improved, but the first game laid the groundwork and basic ideas that are still used.  And the other reason why the first one is my favorite is that you could get NES games to play!  Yeah this was before DLC and Virtual Console, so you could get all these NES games to play in your house!  It was like having a classic Nintendo game collection!  Now that Nintendo knows people will download and pay for those games separately, they won't be doing that again!  But it was cool in that first game!
So a little before the first game came out, I had just gotten out of college and was trying to find a job, which I was having a rough time with.  To make matters worse, I had some minor quibbles with some of my family members.  Nothing really TOO bad, but it was bad enough for me since I usually always get along with everyone in my family.  So Animal Crossing on the GameCube came out right before my birthday, and it was a pretty rough birthday with everything that was going on at the time.  But when I started up Animal Crossing on the day of my birthday, Prince the Frog was waiting by my front door in the rain to give me my birthday present!  And it was the NES version of Donkey Kong!  It's kind of sad, but that was one of the best birthday presents I got that particular year!  So that's another reason why the first game is one of my top five favorite games of all time.
Animal Crossing: Wild World (DS)
Aside from some minor improvements, there really wasn't much difference from this and the GameCube game.  But the big deal was that you could play this game online to visit others' towns!  You see, in the first game, you had to bring your memory card to a friend's house and put it on the second memory card slot of the GameCube to visit their town.  But on the DS, you could just do it online!  I think aside from Mario Kart DS, this was one of the first online games I ever played!  I had a lot of good memories playing this game online with friends from 1up.com and such!
Animal Crossing: City Folk (Wii)
Of all the main games in the series, I think City Folk is my least favorite.  It wasn't much different from Wild World, and the 'city' you could visit was just a strip mall with some shops and such.  But worst of all, about nine months into the game, my save file got corrupted.  I never had that problem with any other Wii game or other Animal Crossing game in general.  So while I played most other AC games for a full year, this one I stopped after that happened.
Animal Crossing: New Leaf (3DS)
Of all the main games in the series, I think this one had the most significant improvements.  Being the mayor of the town really opened up some cool customization features, and I like how they handled the shops and StreetPass functions.  My mom really likes the Animal Crossing games, too, so when the game came out, I got her it and a pink 3DS for Mother's Day that year.
New Leaf was another game that helped me cope with a rough spot in my life.  A few months after the game came out, my grandmother on my dad's side passed away.  After the funeral, the family gathered at her house to eat dinner and visit.  My cousin and her kids all brought their 3DSes and New Leaf games with them, as did I, so we played together and visited each other's towns all that night.  As I was playing with them, it made me happy because it reminded me of when my cousins and I would play together when we were little and I'd visit them in Alabama on holidays and summer and stuff.  But it was also bittersweet because I also thought this might be one of the last times we'd be doing this together.  But I'm sure our grandmother was watching us up in Heaven and happy we were together.
Animal Crossing: Happy Home Designer (3DS)
So sometime after New Leaf, the makers of those games decided they could use the touch screen to make moving furniture around much easier.  So they made a whole game out of that!  So yeah, all you do is decorate houses for animal clients, as if you're some kind of interior decorator or something.  It's not much of a game, more of an activity, but it still entertained me for a few months, and it was nice to play an Animal Crossing game where you didn't have to worry about the time of day or year or whatever.  Later they added those furniture moving improvements to New Leaf with a "Welcome amiibo" update that also added a campsite with camper vans and such.  But it wasn't enough to get me back into New Leaf after I had stopped playing it for a year.
Animal Crossing: Amiibo Festival (Wii U)
This is just a board game where you use amiibo figures as virtual playing pieces, but all they do is just roll the dice when you scan them.  Many people will say this is the worst Animal Crossing game, and I can certainly see why they'd say that.  But I don't think the game was THAT bad.  For such a simple game, they certainly paid attention to a lot of details in it.  And one of my friends said it was a nice game to play in the background while you are hanging out and talking with each other, and I'd have to agree with that.  But yeah, it's certainly the one game in the series I've played the least of.
Animal Crossing: Pocket Camp (Mobile)
Yeah there's a mobile game, too!  You're a manger of a campsite, not a town, and everything is kind of just a bite sized version of the main game.  But with constant updates and something new happening all the time, this one has kept me interested for two and a half years, longer than any other mobile game (and most games in general).  It's just a nice relaxing game to play when I first wake up or about to go to sleep.  And my mom still plays it, too!  Sure it has bunches of in-game purchases, but I never felt like I needed to buy anything to get full enjoyment of the game.  If you are still playing this game, here is my friend code and my mom's as well.
Cary
9466 4856 161
Mom's ID:
7059 3031 355
Animal Crossing: New Horizons (Switch)
I am a little disappointed with myself on how I'm dealing with this Corona virus stuff.  I wish I could've dealt with it better, but I've gotten scared and worried myself so much that I made myself sick from it a while back!  I'm better now, but I wish I could be more brave and positive during all this.  Luckily, the new Animal Crossing game was there to help, and I'm glad I got it.  Of course I'm also glad I'm still working and my family is still healthy, but I'm still scared.  The new game has helped me stay sane and continue to play and keep up with my friends and family.  It couldn't have come out at a better time, and will probably end up being my Game of the Year this year.
In this game, you move to a desert island and start your town from scratch, crafting furniture from materials you find, and eventually you'll end up with lots of neighbors, shops, a museum, town hall, and more!  I'm enjoying the game a lot, but I'm not sure if the changes they've made are improvements, or just changes for the sake of making change.  For instance, having to craft most everything at first kind of makes the game drag a bit.  Also, your tools like fishing rod, shovel, and such, can all break and you must craft another.  Nobody liked breakable weapons in Breath of the Wild, so why did they put them in here?  I can understand why they made weapons break in Zelda, to keep you on your toes, but here it feels like an annoyance.  But even with those problems, I'm still playing the HECK out of this game.  If you have a Switch and want to visit my town, I'm putting my friend code in this blog as well as my mom's, who is also playing this game on her Switch that she won in a contest a while back.  I can't wait to see what great memories I can make with this game!
Cary W.
1395-7159-9988
She-Ra
0699-4185-2793
And that's all for now!  In the comments section, tell me your favorite Animal Crossing games and any other games that have helped you cope during tough times.  Later!  –Cary