Posted on
July 13th, 2020
by
It's Free-To-Play week here at GamerDad.com, with three free-to-play, or at least free-to-start, games you can download.  Oddly enough, all of these free-to-play games are published by Nintendo!  Or at least related to Nintendo in some way, which is unusual.  The first one we'll look at is Jump Rope Challenge.  It's a little fitness style game that simulates jumping rope, and you can download it on Nintendo Switch.
To play, just hold a JoyCon in each hand and move them like how you would when jumping rope.  You can also jump, too, but the game won't read that part.  You have a goal each day to jump rope 100 times, but you can always change that goal in the options.  On screen is a little rabbit jumping rope in time with you, and you can change the little bunny's outfit.  After you reach the goal, a different background will show up.  A second player can also join in, too.
And that's pretty much the game!  While it would've been nice if they added more things, like characters to choose from or whatever, I guess I can't complain too much it's free.  It just feels like a single WarioWare micro game.  Even the art style is the game.  But I guess if you need something to help keep you moving while being stuck indoors during these times, you can't beat the price of this one.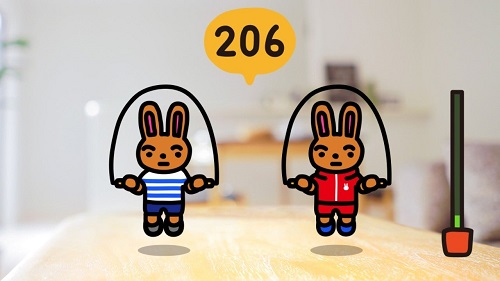 Kid Factor:
Nothing violent or objectionable here, although I wouldn't recommend this game to anyone with bad knees!  It might be a fun thing to get if you have kids and want them to stay active, and it's good for 'getting the wiggles out' before bedtime.  Jump Rope Challenge is rated E for Everyone.