Posted on
November 6th, 2020
by
Personally, I've never been able to get into professional wrestling on TV.  Don't get me wrong, I certainly have respect for the athletes and performers, but it's just not something that has kept my interest.  Although I do have a bunch of friends and family members who like wrestling on TV.  One of my online friends suggested I review the new WWE 2K Battlegrounds game, as it's a game that might appeal to kids and younger fans.  Many kids do like TV wrestling, and who can blame them?  It's all about super cool, strong and athletic guys and gals performing over the top moves on each other.  So I decided to step out of my comfort zone and give this one a try.  It's available on all current consoles and PC, but reviewed on PS4 here.
Like in wrestling, the object of this game is to punch, kick, and throw your opponents and whittle down their energy.   The lower their energy, the easier it is to pin them down longer.  When you pin your opponent down for three seconds, you win.  There are two main things that separate this game from other wrestling simulators.  For one, they made the controls easy to understand for the most part, with buttons cues telling you when to push what button to pin, do a reversal, wriggle out of a hold, and more.  The other thing that makes this game stand out is that it doesn't take itself too seriously.  Characters are depicted with cartoony big heads and disproportionate bodies, and their moves have cartoony effects like flaming fists and glowing auras.  It's just big silly fun.
The game has a TON of modes.  There is the campaign, or story mode, which depicts the plot with comic book cutscenes you can read or skip (which is what I did).  In this mode you will have to perform challenges to unlock goodies in the other modes.  There are a couple of online-only ones including a Tournament and King of the Battlegrounds modes.  To level up and unlock goodies for your created characters (more on that in a bit), go to Battleground Challenges to compete in matches there.  There are also quick exhibition matches for both male and female wrestlers.  These include one-on-one, tag team, tornado tag team, steel cage, royal rumble, Fatal 4 Way, and Triple Threat modes!  You can also use the money you earn by playing to buy more wrestlers including classic ones like Andre the Giant and Hulk Hogan.  Best of all, not only can you create your own wrestlers, but also arenas as well!  It's not quite as robust as say, Soul Calibur's character creation mode, but it's still fairly substantial.  Finally, there are daily challenges you can do to earn more goodies as well as an online store to buy more stuff.  That's a lot of things to do in this game!
Even so, I still had a hard time staying interested with this game.  But that's not really the game's fault.  I've just never been a big wrestling fan.  I felt the game was kind of difficult, but then, I'm not very good at these kinds of games.  I liked how they told you which buttons to push, but they don't tell you EVERYTHING, like how to exit the ring and pick up folding chairs (a must for any wrestling game).  And I had a hard time training my eyes to look under the characters' feet to see their energy and special move meters.  However, if you are a big TV wrestling fan and don't mind a bit of silliness, this one is a must get.  Best of all, it's around 20 bucks cheaper than most games out now.  Considering how many modes it has and that it features a pretty big license, that's a good deal.
So do you have any favorite wrestlers?  Let me know in the comments section.  I guess my favorite wrestler would have to be Captain Lou Albano, since he played the live action Mario in the old Super Mario Bros. Super Show cartoon.  I don't have a favorite female wrestler yet, though, so maybe one of you can pick out one for me.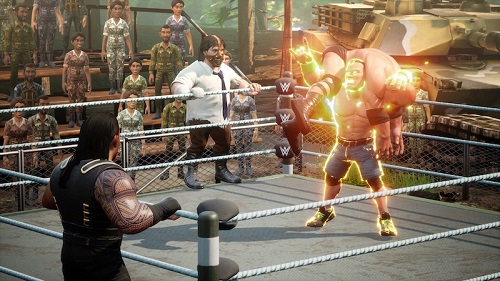 Kid Factor:
WWE 2K Battlegrounds is rated T for Teen with ESRB descriptors of Cartoon Violence and Mild Suggestive Themes.  You can punch, kick, and throw other people around, but since everybody looks more like action figure toys, the violence isn't as realistic.  The worst thing that can happen is you can get dizzy stars over your head.  Some of the characters wear slightly skimpy outfits, too.  Parents, this game may also prompt a good discussion on how TV wrestlers' moves are scripted and they try to pull them off as safely as possible, and these things should never be done at home, school, or wherever.  Even the game starts with that warning.  But if you're OK with your kids watching wrestling on TV, they'll be fine with this game, too. Reading skill is helpful for the text, and younger gamers may find it too difficult.  Parental supervision is recommended for the in-game purchases.