Posted on
November 25th, 2020
by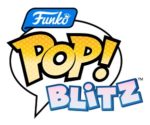 Those big-headed, soulless black eyed Funko Pop figurines are EVERYWHERE!  And pretty much any movie, TV, comic book, even food commercial characters have their own figure.  I've tried to stay away from them, myself, since I'm already so bad with amiibo figures, but even I have a few of them.  I had to have all the Pac-Man ones, because you know I would.  Plus I've got a couple of other video game related ones I've found on sale.  And now there is a match three puzzle game on mobile devices featuring Funko Pop characters!
It plays just like any other match three puzzler.  Slide Funko Pop faces to match three to make them disappear.  Match more and you can get power-ups to clear even more.  Some of the characters on the playfield include stars from Shrek, Jurassic Park, Kung-Fu Panda, Pillsbury Dough Boy, General Mills cereal characters, Universal Monsters, and more!  You'll earn coins after each round that you can use to buy more virtual figures, and you can equip one as a 'helper' and when you clear enough of their heads, you can use their skill.  For instance, I had Marty McFly as my helper and he uses the DeLorean to go back in time and give you a few extra seconds of playtime.  When you're time is over, it's Game Over and your score is tallied.
There is no world map or any way to show progression, you just play the same board each time with different characters.  And you can only play five times until you must wait to recharge how many times you can play.  You just play to get more coins to buy more virtual figures, and the cycle repeats itself.  Because of this and the other free-to-play aspects of these kinds of games, I lost interest pretty quickly.  Also they have special events where you can get extra points if you use a certain character.  They recently had a Jurassic Park event, and I had a Jurassic Park character, but I still didn't get any bonuses.  I guess you have to have a specific character that's impossible to get?  I don't know, they didn't make it very clear.  Next up as of this writing they're supposed to do a "The Office" event, but I probably won't be playing this game anymore by then.  I'd say only the most die-hard of Funko Pop fans would enjoy this.
Kid Factor:
Nothing violent or objectionable here.  Reading skill is helpful for the text, and parental supervision is recommended for the in-game purchases.