Posted on
December 15th, 2020
by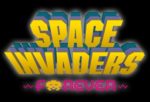 I love classic arcade games, and you can't get much more classic than Space Invaders!  So I was excited to review Space Invaders Forever.  It's a collection of three notable games in the Space Invaders series, and it's great that they're some of my favorite iterations of the franchise as well!  It's available on PS4 and Switch, but reviewed on PS4 here.  Let's take a look at the games on this compilation!
Aw man, I love this one!  They took the Pac-Man Championship Edition approach with this game and gave it flashy graphics and techno music that ties into the action when you shoot.  There are power-ups, combos, bonus rounds, bosses, and more!  I'm really glad they released this game again because it's every bit as good now as it ever was.  I even reviewed it back on the Xbox 360 more than ten years ago!  Wow!  Check out that review if you want more info on it.
I have a lot of special memories with Arkanoid. It's another game made by Taito, who also did Space Invaders, and it plays like Breakout but with power-ups.  It was one of the first games I got for the NES, and it's one of the few NES and arcade games I could get my dad to play.  Now they've combined the gameplay of both Arkanoid and Space Invaders as you must bounce back invader shots with your paddle to break blocks and aliens.  This game was originally on mobile devices and I reviewed it back then, too!  I was worried how they'd translate the touch screen controls here, but they do it in a nifty way.  The PS4 controller has a little touch bar above it that you can use to control the game, and it works very well here.  It's just nice to see game companies use under-utilized features of the PS4 controller.  One other thing I like about this game is that there are tons of character cameos from other Taito games.  Anyway, make sure to check out my review of this one if you want more info as well.
Space Invaders Gigamax 4 SE
This was the only game on here I haven't already played and reviewed.  It's a four player Space Invaders game on a wide screen.  I think it was only in Japan arcades, and the only time I've seen it is on a YouTube video about a recent arcade game trade show.  Anyway, it starts out with the invaders coming down in the typical row fashion, but then after a while, they change and fly all over the place and after that, a giant UFO comes down and you must shoot that as the boss.  But you have a time limit to do so.  It plays pretty well here but I wish I could've played it in an arcade!
And those are the games.  Really the only problem I have with this collection is they could've put more on here.  I don't think it would've broken the bank to include the original game, or some of my other favorite Space Invaders titles like Majestic Twelve or Space Invaders 95: Attack of the Lunar Loonies. Or maybe it could have the last Space Invaders game I played in arcades: Space Invaders Frenzy.  Of course that was more of a light gun game with a lighted dot matrix screen, but i still enjoyed it.   The only reason why this gets a pass from me is because the games included are really good.  Other minor problems I had were that since Arkanoid vs. Space Invaders was originally a mobile game, it doesn't use the extra space on the TV very well.  And the games are pretty hard, but I'm not very good at Space Invaders anyway.  I still really like the games on this collection and the music in all three is fantastic, too.  But I think that's because it was all done by Taito's in-house band Zuntata.  So yeah, if you like Space Invaders, you may want to check this one out.
Kid Factor:
Space Invaders Forever is rated E for Everyone with an ESRB descriptor of Mild Fantasy Violence.  You just shoot at blocky aliens that explode into pixels when defeated, so violence is minimal.  Reading skill is helpful for some of the text, and younger gamers may find later stages too difficult.