Posted on
December 30th, 2020
by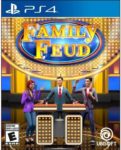 There are countless TV game shows out there, but most don't last very long.  Sometimes you might get a remake of one, such as Press Your Luck (one of my guilty pleasures).  But there are some game shows that seem to have been on TV forever!  Or at least as long as I can remember.  Some of these include Jeopardy!, Wheel of Fortune, and The Price is Right.  Another one is Family Feud, and any time it's on, me and whoever I'm watching it with like to try and guess the survey answers.  And now you can play a video game version of it on most current consoles, but it's reviewed on PS4 here.
If you've ever watched Family Feud on TV, you know how to play this game.  Two families try and guess the most popular answers in surveys.  Whoever can mash the buzzer first and answer the highest ranked survey question will have control of that round.  But if that family can't guess all the answers, the other team can try and guess one and win all the other family's points if they succeed.  Whoever can get to 300 points this way wins, and can try to play a game where two family members guess survey answers to get to 200 points.  If they do, they win the grand prize!  In the game, typing in answers is easy because after a few letters, they give you four words in the bank you can use, and usually it's the ones you want.
There are several modes in the game.  Play is of course, the main mode, and there are four ways to play.  Classic lets 1 to 5 players go at it locally.  I love how one person can go up against another CPU family of five all by themselves.  It just looks weird!  You can choose three different difficulty levels of the CPU family you compete against.  Party lets 2 to 10 players compete in teams.  You can pass around the controller, so you only need one.  Couch Vs. Couch has 1 to 5 players compete against another family online!  And Live Show is the most creative.  One player broadcasts their game on a streaming service for viewers to guess survey answers.  If I had the time and knowhow, I'd totally do that!
The money you earn from winnings in the game can be used in Customization, where you can buy clothes and accessories for the in-game family avatars to wear.  You can view your characters and objectives (trophies and achievements) in My Progress, and access special features via the Ubisoft Club.  And finally toggle various features in Options.  Speaking of Ubisoft Club, that's one of the main problems I had with the game is that it asks you every time when you start if you want to join the Ubisoft Club.  I imagine all Ubisoft games do that, and it may not bother some people, I just found it annoying.
Other problems I had with the game are more minor.  I don't know where they get some of these survey answers, but one time my topic was 'things that are considered sharp.'  I said "tack" which netted me zero points!  That kept me from winning the grand prize by less than 20 points!  Argh!  Also, the graphics of the people look like they could've been done on a PS2.  It just looks bad juxtaposed to the stage backdrop graphics, which look amazing.  Seriously, just looking at the stage itself, I couldn't tell the difference between the game and the TV show!  But despite the problems, if you have a family who enjoys watching and playing along with game shows, you may want to check this one out.
Kid Factor:
Nothing violent or objectionable here.  I didn't run across any off-color survey topics, which is nice considering the last time I watched the show, they had some pretty adult surveys on TV!  Reading skill isn't necessary, but younger players may need help typing in answers.  Family Feud is rated E for Everyone.