Posted on
January 7th, 2021
by
Toy icon Barbie is known to be a fashionista, but where does she put all her clothes?  Must be a pretty big closet!  Her closet is so big, in fact, that it gets its own mobile game! (reviewed on iPad here).  Pick out Barbie and friends' clothes, accessories, hair, make up, and more!
Using the touch screen, players are first prompted to pick a Barbie of varying ethnicities.  Then you can pick out outfits for them to wear.  Tops, bottoms, shoes, whole ensembles, and more!  You can even dress them in mermaid and fairy outfits.  Then you can choose their hairstyle and makeup.  Select from different colors, or use the touch screen to draw your own styles.  The neat thing about this is that it only draws on the parts you want it to, like only on the hair or lips.  That way it won't look like Barbie was on the losing end of a fight with her makeup bag.  When you're done, choose a background and take a picture.  And that's pretty much all you do in the game.  Each day you play you'll unlock a new hairstyle, makeup color, or outfit.  You can also purchase outfits with real money in the shop as well.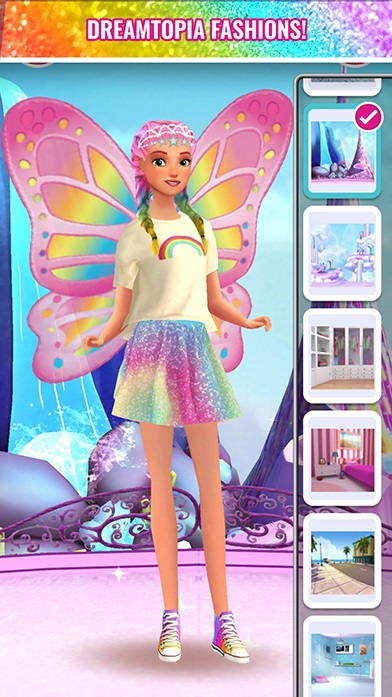 Kid Factor:
Reading skill isn't needed as everything is prompted with voices and picture cues.  Parental supervision is highly recommended for the in-game purchases and ads, though.  And I'm sure the whole game is just one big ad for the new Barbie closet toy, as well as the dolls themselves.  While I think a real Barbie doll and clothes would be more entertaining for a kid, those dolls and outfits can get EXPENSIVE so this may be a good compromise.  And it encourages creative expression, too.