Posted on
March 24th, 2021
by
Now you can add some Mario fun to your Easter egg decorating!  I found a couple of Mario themed egg decorating kits at Wal-Mart and thought it would be fun to take a look at them!  So let's-a-go!
There were two different ones at the store.  One regular one and one with cups.  Here's a bigger picture of both of them.
And here's the front of the regular decorating kit.
And here's the back.  It comes with all the normal Easter egg decorating trappings, like the color capsules, egg dipper, etc.  As well as Mario stickers, paper egg stands, and those plastic things you can wrap around eggs and boil them to make them shrink on the egg.  A long time ago when I was a kid, I had a DuckTales Easter egg decorating kit and it had those wrap around things and we boiled them onto plastic eggs and they lasted for a very long time!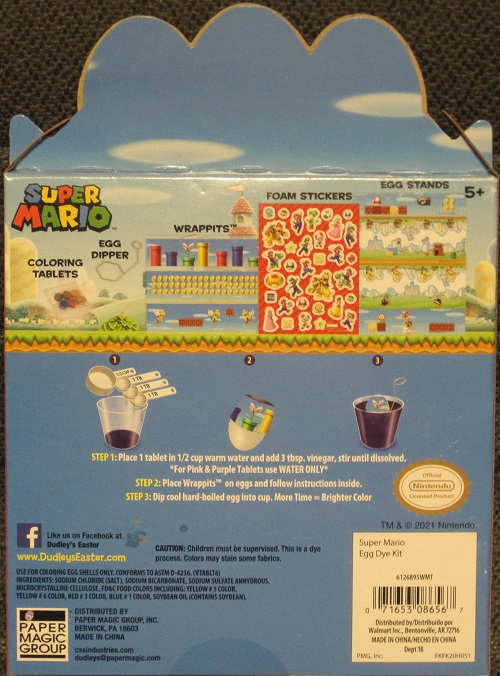 This is the Mario egg kit with the cups.  I think with this one, you're mostly paying for packaging, but it is some nice packaging I have to admit.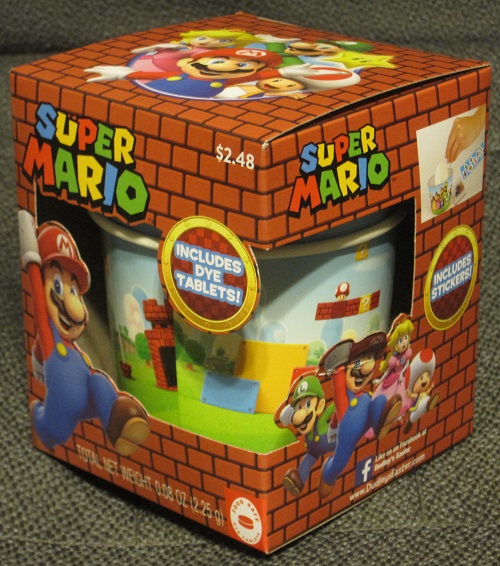 And here's the back.  Nothing special.  It just comes with the color capsules, egg dipper, 20 stickers, and the cups.  Too bad the cups are paper.  If they were plastic you could wash and reuse them for a longer while.
And those are the Mario Easter egg decorating kits!  Maybe next Easter we'll get Animal Crossing Easter Egg kits.  Or maybe Kirby Easter kits.  Or Metroid!  OK, maybe not Metroid!  Later!  –Cary