Posted on
April 16th, 2021
by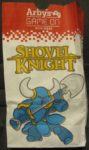 So I've written about fast food chains doing kids meal toys based on video games in the past.  Burger King or McDonald's doing Mario or Pokémon toys, for instance.  Heck, I've even wrote about Arby's doing Sonic the Hedgehog toys in a past kids meal promo.  But those aren't much of a surprise since all those games are in the public eye forefront.  So when I saw that Arby's was now doing Shovel Knight toys in their kids meals, I was like, "WHAT?!?"  I mean, Shovel Knight is a very popular indie game.  But it's still just an indie game.  Didn't think it was something kids were into.  But as a Shovel Knight fan, you know I had to take a look at this, so let's dig into Arby's latest crazy kids meal promo!
First off, here's a bigger picture of the bag.
The back side of the bag has a maze you can dig into.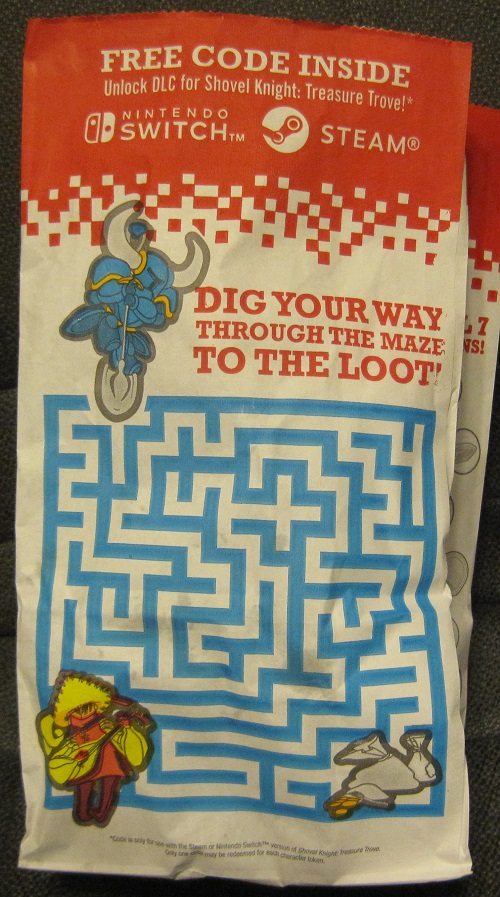 I got the main character toy launcher.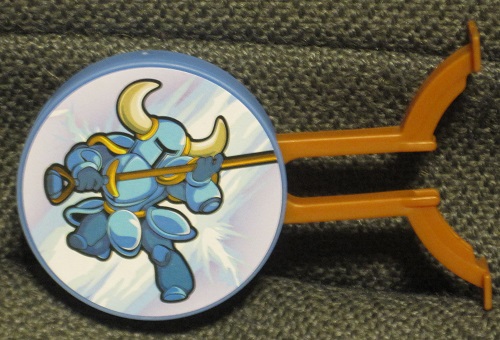 Here's the back of it.  I couldn't figure out how to get it to work.  I think you have to be a kid to figure it out.
Inside the toy wrapper is a sheet of paper with a code for DLC for the game.  I don't know what it is since I haven't tried it yet, but I imagine it's probably the same stuff you get from the amiibo figures or something.  On the other side of the paper they show all the toys you can get.  I'd love to collect them all, but there's not an Arby's near me anymore.  There used to be, but it got changed to a Popeye's (blech).  I like how on the paper, Arby's called one of the characters "Doctor Knight."  That's clearly Plague Knight!  Get it together Arby's!
And that's all for now!  During my research, I found out Arby's has done other video game kids meal toys, but most of them are mobile games like Fruit Ninja or Jetpack Joyride.  I'll be certain to keep a closer eye on Arby's in the future.  If they're doing Shovel Knight toys now, what's next?  Shantae?  I'd love to see that!  Later!