Posted on
April 28th, 2021
by
A little girl is playing with a pachinko machine in her room.  Pachinko is kind of like pinball, except you shoot marbles to the top of a field full of notches, and the marbles roll down and you hope they land in spaces that give you points.  Not sure why she has one in her room, but when she runs out of marbles, she reaches on a high shelf for a bowl with more marbles so she can keep playing.  But when the bowl spills and the marbles roll around amongst her other toys, the girl uses her imagination (presumably), and plays mini-games related to her toys to get her marbles back.  Either that or she lost her marbles both literally and figuratively.  Anyway, Pureya is a mini-game collection where you play a series of ten second games to earn marbles, then you use those marbles in the pachinko machine to unlock more games and other goodies.  It's available to download on PC and mobile devices, but reviewed on iPad here.
When you start, you'll play a series of mini-games for about ten seconds each, and you'll play around ten of those games at a time.  You'll use arrows on the touch screen to move your character left and right, so controls are very simple.  You'll do things in these games like steer a bouncing ball around cacti, help a squid swim around urchins, steer a toy car to hit soccer balls into a goal, move a spaceship left and right to shoot asteroids, etc.  In these games you'll have the opportunity to grab marbles.  If you can go for a long time without getting hit, the difficulty will increase.  But if you get hit too many times, the difficulty will decrease.  Generally the higher difficulties will give you more opportunities to collect marbles.  After you finish the games, you'll use the marbles you collect to play the pachinko machine to win goodies.
Launch marbles into the pachinko machine by pressing the left and right arrows like in the mini-games.  If you can get the balls to land in a certain green area a number of times, a meter will fill and when it's full, a slot machine in the middle will activate.  If all three numbers match, you'll earn that many number of goodies.  Prizes include new 'skins' for the characters you control, different music, and even other mini-games!  Then when you run out of marbles, you'll play more mini-games and repeat the process.  On the menu screen you can also play each game separately, do the chain endlessly, or view what you've unlocked.  I really liked the 8-bit graphics and WarioWare style of gameplay, but with only a little over a dozen mini-games, plus the luck based nature of the pachinko unlockables, the slow progression and repetitive nature kept me from staying interested for very long.  But if you enjoy mobile games like Flappy Bird, you may want to check this one out as well.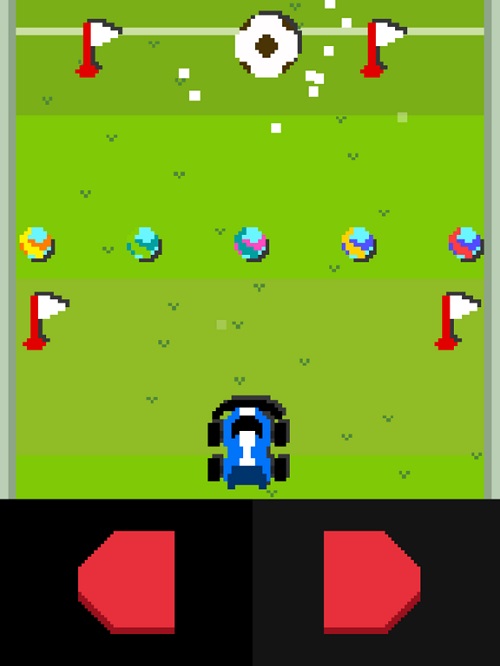 Kid Factor:
If your pixelly characters get hit, they'll just explode into smaller squares or fly off the screen, so violence is only minimal.  Reading skill isn't needed to play, and it doesn't look like there are any in-game purchases, so this is a pretty good mobile game pick for all ages.