Posted on
October 27th, 2021
by
Love Colors is a pixel art paint by numbers game.  Choose from several categories of pictures, including food and animals, and paint them square by square.  There are tons of pictures to paint, and even more you can buy through DLC.  It's available on Switch, PC, and mobile devices, but reviewed on Switch here.
After you choose a picture, you can move a cursor around and press a button to fill in squares with the right color.  But don't worry if you color in the wrong square.  It'll color it in, but still show the number so you can fill it in with the right hue later.  And once you have filled in a square correctly, it won't let you color it in again.  You can switch colors with the shoulder buttons, but once you finish a certain number, it'll automatically go to the next, so you really don't need to do that.  You can stop coloring a picture and come back to it where you left off later, too.
After a while you'll earn fills and 'splats' that'll let you color faster, but you only get a limited amount of them for some reason.  I guess you can use those if you're in a hurry, but it usually takes less than five minutes to color a picture anyway.  Aside from using a controller to move the cursor around, if you are playing in handheld mode you can also use the touch screen to color as well!  Interestingly enough, up to four people can color a picture at the same time.  You can do this to paint a picture faster with friends, or maybe even make up competitive games to see who can color fastest.
I had a few problems with this game.  First, they don't really explain how to play very well at the beginning.  Granted it's pretty easy to figure out, but still.  There's not a lot of room for creativity either, as you really can't choose what colors you want to use.  I think it would've been cool, and probably not hard to make, to have a feature that lets you design your own pixel art to color.  Also I just never really understood the point to these video color programs.  If you do paint by numbers on paper, you can at least hang it up on a refrigerator, frame it, or give it to someone.  But here you can't really do anything with it except look at it on the video screen.  I guess this might give you some craft ideas if you're into Perler Beads or cross-stitching.  And if coloring is one of those activities that relaxes you, you may want to try this game out anyway.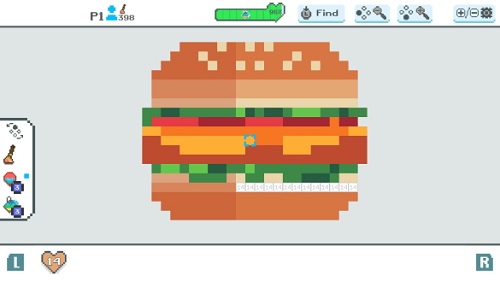 Kid Factor:
Love Colors is rated E for Everyone with an ESRB descriptor of Alcohol Reference.  There is a 'drink' category of pictures where you can color things like a milk carton or a glass of orange juice alongside pictures of beer bugs, wine bottles, and flasks.  Reading skill and number recognition is helpful, and parental supervision is recommended for the in-game DLC purchases.  Because of the non-competitive multiplayer aspects this game has, it may be a good fit for parents and kids to have some quiet-time bonding.  Plus, budding game designers can use this to see what goes into making sprite characters.