Posted on
August 8th, 2022
by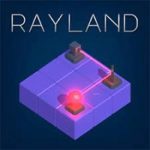 Use angled mirrors to reflect a laser so that it hits a crystal in Rayland.  You've seen puzzles like this before in other games like Zelda dungeons and such.  It's available on all current consoles and PC, but reviewed on PS4 here.
Puzzles are viewed in an isometric perspective.  You'll use the control stick to move around a cursor, and hold down a button to drag and drop mirrors and another button to rotate them.  It seems mouse or touch screen controls would be better here, but this works well enough.  Sometimes you'll have to feed the laser through obstacles like blocks with holes and whatnot, and other times you may have to hit two crystals with lasers.  Once you do hit all the crystals, you can move onto the next level.
The game has a few minor problems, but nothing that ruins the experience.  At less than 50 levels, the game is a little short.  I encountered a bug where the laser wouldn't hit a mirror, but I just restarted the level and it was OK after that.  No biggie, just threw me off a bit.  The levels get pretty tricky about halfway through, so a hint option would've been nice.  But otherwise, this game is fine for what it is.
Kid Factor:
Nothing violent or objectionable here.  Reading skill is helpful for the instructions and menus, but not necessary just to play.  Younger gamers may need help with the tougher puzzles, though.  Rayland is rated E for Everyone.