Posted on
August 26th, 2022
by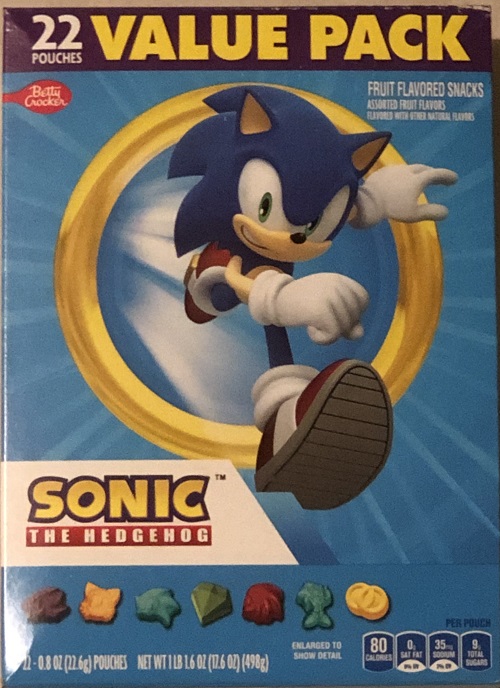 Hey everyone!  Guess what I found at the grocery store the other day?  Sonic the Hedgehog fruit snacks.  Now the speedy blue blur can grace your kids' lunchboxes this school year!  I got a press release a few months ago saying that they were going to come out with Sonic fruit snacks plus a Sonic cereal.  So I guess the fruit snacks finally came out. I haven't seen the cereal yet but if I do, you'll know I'll buy it and definitely write about it!  You'd think they would've had this kind of Sonic foodstuffs before now, but they haven't.  So let's take a quick look at the fruit snacks!
Here's a bigger picture of the box.  Found these at Kroger, by the way.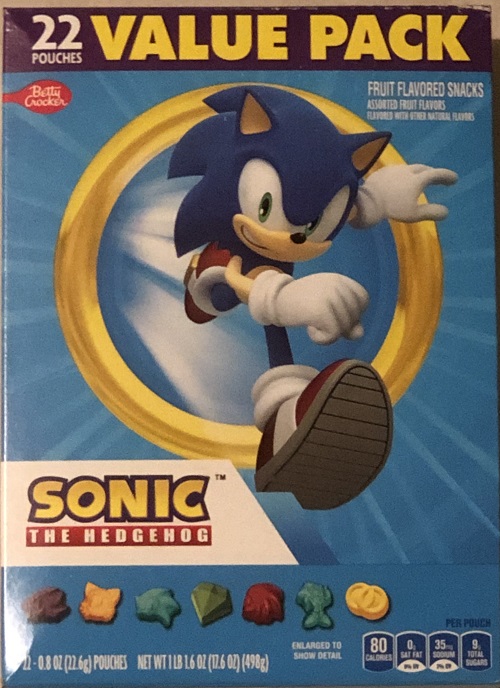 And here what fruit snacks are inside.  I didn't take a picture of the actual fruit snacks themselves, because they're less photogenic than what's on the box.  Plus the snacks are randomly put in the bags, so I didn't want to open up bags until I got the whole set to take a picture of.  Glad to see that Tails is included, since he's my favorite Sonic character.
And here's what the packages look like.  They're a bit smaller than the fruit snack packages I had back when I was a kid.
And those are the Sonic fruit snacks.  As a whole, I'd say fruit snacks in general today don't taste as good as they did when I was a kid.  I know part of that may be my tastes changing as I get older, but I also think they don't make them as good as they used to as well.  Anyone remember the Garfield fruit snacks from the late 80s?  Those were the best!  Later!  –Cary