Posted on
September 12th, 2022
by
Play a different version of solitaire while unlocking a bevvy of anime ladies in Pretty Girls Four Kings Solitaire.  It's available on PlayStation consoles, Switch, and PC, but reviewed on PS4 here.
Gameplay is very similar to regular "Klondike" solitaire but you can't move your rows around and you must place certain cards in the four piles above.  I couldn't figure out a rhyme or reason to which cards you can play, but luckily the game tells you which ones you can play and which ones you need.  Play control is simple, just move a hand cursor on the cards you want to play or move.  Depending on the difficulty level, you may also have limited helper moves like using cards that are under other cards to play, or shuffling the whole deck.
My only problem is that progression is slow because you must play each difficulty mode several times before you can unlock new characters.  And you must play the super high challenge modes to get them all.  So I lost interest pretty quickly.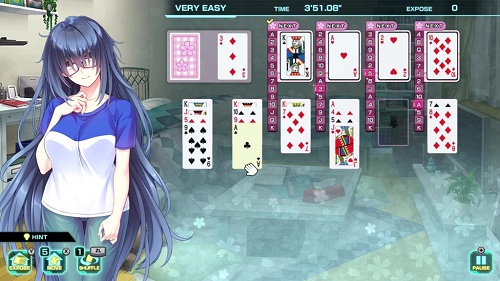 Kid Factor:
Pretty Girls Four Kings Solitaire is rated T for Teen with an ESRB descriptor of Suggestive Themes.  Some of the ladies are rather busty and wear revealing outfits, but I don't think it's as bad as other games in this series.  But I imagine there are other, more suitable and better card games out there for kids.