Posted on
October 12th, 2022
by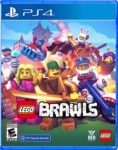 Customize your LEGO Minifigures with hundreds of options and pit them against others in fights with LEGO Brawls.  It's a Smash Bros. style fighting game available for all current consoles, PC, and mobile, but reviewed on PS4 here.
When you start, you'll get to choose between three LEGO people: a knight, a space heroine, and a masked wrestler.  As you play, you'll get to unlock more parts to make your own fighters.  Play control is super simple.  One button for jumping, one for attacks, and one to do a special attack when a meter is full.  You'll fight in 2D Smash Bros. style arenas to knock out the other players, and you can also pick up temporary power-ups like ridable horses and vehicles, and projectile weapons.
I only had access to the single player and local modes because I'm too cheap to get a PlayStation Plus account.  So I only had access to the mode where you just fight up to eight others until the last one standing wins.  But supposedly there are other modes online where you can defend a territory in the arena and more.
After you play, you'll earn LEGO bricks that you can spend to unlock and customize your fighters.  There are hundreds of options to customize your fighters with, like heads, torsos, legs, accessories, weapons, even win poses!  This is where the game really shines, but since it originated on mobile devices, progression feels slow and you have to play the game a BUNCH to get anything good.  You can even choose whole themes to unlock stuff with, like space and pirate.  Some of the things you unlock are related to licenses like Jurassic World, Ninjago, and one I've never heard of called LEGO Vidya where kids can use LEGOs to make their own music videos!  But even though there's not much to it gameplay-wise, LEGO Brawls is still a decent time as long as you have plenty of friends to play it with, or an online account.
Kid Factor:
LEGO Brawls is rated E-10 with an ESRB descriptor of Cartoon Violence.  You just hit toy LEGO figures that disappear when defeated, and that's it.  Reading skill is helpful for some of the text, but not necessary just to play.