Posted on
November 23rd, 2022
by

"reky" is a isometric maze puzzle game where you must guide a ball through a minimalistic maze to get from point A to point B.  There are colored blocks in the mazes that you can move to certain spots by pressing the A button.  When your ball is over one of those colored blocks, you can absorb that color with the X button.  You can then transfer that color to another white block, and then move that block with the A button to hopefully move forward.  But your ball can't be on colored blocks for them to move.  There are nearly a hundred of these maze puzzles to solve in reky, and it's available on pretty much anything you can play a game on, but reviewed on Switch here.
The game is pretty simple enough to understand, but the isometric viewpoint makes it hard to know where you can go.  And it also affects the controls.  While there is a short tutorial, they don't tell you things like highlighting blocks you can move with the R stick.  And they don't even highlight options and selectable levels in the menu screens, so even navigating those is a chore.  Because of all that, I lost interest in this one pretty quickly.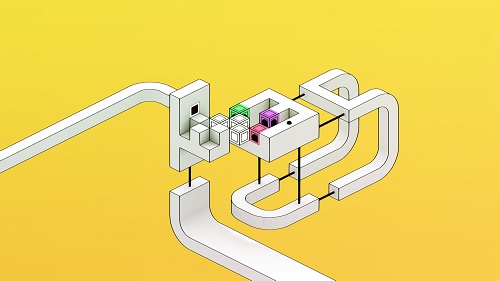 Kid Factor:
Nothing violent or objectionable here.  Reading skill is helpful for some of the text, but not necessary just to play.  Younger gamers may get frustrated at the controls and difficulty.  reky is rated E for Everyone.