Posted on
December 23rd, 2022
by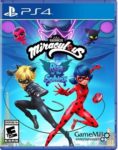 Miraculous is a cartoon show that I've never heard of before until now.  Apparently you can watch it on Disney+.  The show stars a high school girl named Marianette, who lives in Paris.  But she can also turn into the superhero Ladybug and fights super villains with her partner Cat Noir.  With her polka-dot outfit, acrobatic martial arts skills and weird yo-yo thing, Ladybug will also save the day in this new video game based on the cartoon.  It's available on all current consoles and PC, but reviewed on PS4 here.
In the game you can play as Ladybug and Cat Noir, either switching between them in single player or as both in two player mode.  There are really three types of gameplay found here.  There are action stages where you hop around the rooftops of Paris, jumping on buildings and beating up bad guys.  Boss fights are similar, but they switch the controls around so you have a dodge and parry move instead of jumping, and quick time events are also added.  And then in between those stages, you walk around Paris as Marianette, talking to her friends and working out problems not related to superhero stuff.  You can also give orbs and macaroons you've collected to Master Fu here, where you can upgrade your skills and unlock artwork and other goodies.
Really my only main problem with the game is that the sections where you just walk around town talking with people drag on a bit, but luckily there is a usually handy arrow to tell you where to go. I just wish you could just skip to the action parts.  But even those aren't very challenging and you're not penalized hardly for falling into pits and such.  But you know, I'm perfectly fine with that.  While the game didn't pull me in and make me want to watch the cartoon show anytime soon, I'm sure for fans of the show of any age, this game would be great for them.
Kid Factor:
Miraculous: Rise of the Sphinx is rated E-10 with an ESRB descriptor of Fantasy Violence.  You can punch and kick bad guys, but they just disappear in a sparkle of stars and butterflies when defeated.  The game is suitable for any age, but reading skill is a must for all the text.