Posted on
May 20th, 2023
by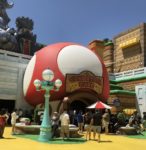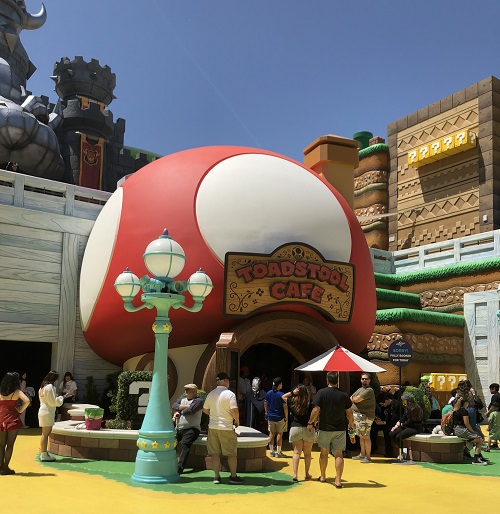 My next Bowser confrontation was a different kind of challenge.  A food related one!  I really wanted to go to the Toadstool Café restaurant at Super Nintendo World, and luckily we got in!  I think this was one of the things I was looking forward to at the park the most!  In Japan they have a couple of Kirby cafes with Kirby related food and gifts.  I'd really like to go to those, but I don't think I'll be going to Japan anytime soon, if ever.  So I think this Mario themed restaurant is about as close as I'll get!
Here's a bigger shot of the front of the restaurant.  I love the Toad house design.  When you go in, you can scan your Power Up Band to pick from a big or small present, just like the Toad Houses in newer Mario games.  I got some coins and a radish.  And yes you do get stamps for those on the app.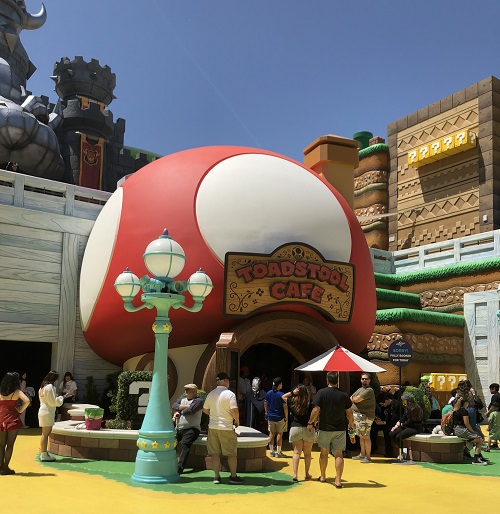 So here's what you need to do to get in.  When you first get to the park, IMMEDIATELY go to the front of the restaurant and scan a QR code so you can make a reservation time.  This doesn't guarantee you'll get in.  Then five minutes before your "reservation," come back and show them your text and if they have enough room, you'll get in a line.  So even though you may have set a certain time, you may not get to eat until an hour later.  That's what happened with us, anyway.  The first part of the line we got our menus and stood in a room where Chef Toad was talking to us through a window.  I have to say that even though Toad is my favorite character, after listening to that voice for 15 minutes, it got pretty annoying.  My dad said it sounded like Minnie Mouse on drugs.
Here's the front of the menu.  There was a wide variety of food, like ribs and burgers, but most of it had an Italian theme, because Mario.  Some of the appetizers were things like mushroom shaped garlic bread, that tomato and cheese sliced thing (which we got), and spaghetti dishes.  I really wanted the Luigi burger (actually the description made it sound like a chicken sandwich) but I can get burgers anywhere so I wanted to get something a little more original, which you'll see in a bit.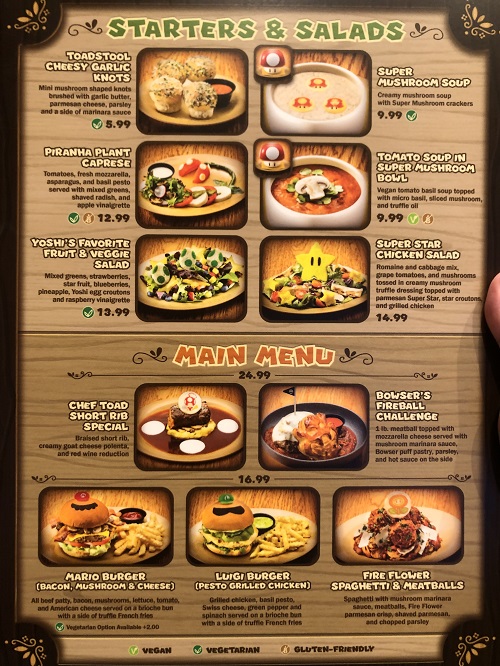 And here's the back of the menu.  One of the problems I had with this restaurant was that they were out of a few things I really wanted.  Like one of the desserts and drinks.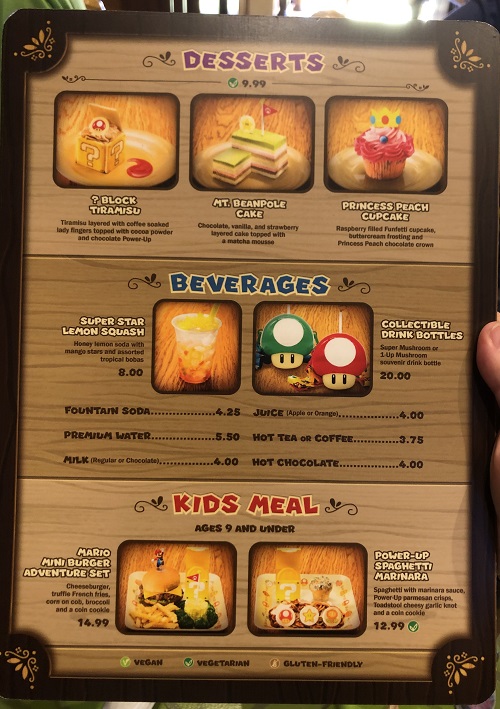 And here's where you take your order.  This took another 15 minutes.  The customer service wasn't very good.  I hate to complain, but I work in customer service and bust my butt doing my best, so when I see other customer service workers not doing the same, it upsets me.
After that you take your drinks and go inside and find a table and wait for your food.  And that took another 30 minutes.  One thing to keep in mind is that they don't refill your drinks, so don't drink all your drink before you get your food, especially if you get something super spicy (like we did).  Another thing to know is that there are no restrooms in the restaurant.  You have to go outside to the restrooms there, and I don't know how you'd get back in.  So just make sure you go potty before going in.  One thing to note about the restrooms is that they were Mario themed, too!  There was a mural of water enemies like Bloopers and Cheep Cheeps on the wall where you wash your hands, and the music in the background was from water levels!  Sorry I didn't take any pictures of that, but I think that would be creepy, and probably illegal, to do that.
Anyway, if there's one cool thing the restaurant gets right, it's the atmosphere.  You really feel like you're in a big Toad house.  The music in the background was ambient slower remixes of classic Mario tunes.  I heard Bob-Omb Battlefield's music, the Comet Observatory song from Mario Galaxy, and the ending tune from Super Mario World.  Here's the middle part of the restaurant.
They also had windows you could look out of to see Toads walking about the Mushroom Kingdom as well the kitchen where they were preparing your food.  Granted they were just TV screens, but it was fun to watch.  Most of the time it was just Toads walking outside, but sometimes I caught a group playing leapfrog or jump rope.  You can see my dad in the right corner of this picture, by the way, in case you wondered what he looks like.
But every so often, you'd see storm clouds billowing up, and the Toads would look up and say things like, "Oh no!"  Even the lights on the inside of the restaurant would dim a little bit.  Then you'd see Bowser's airships fly by for an attack.  Out one of the windows I spotted Mario chasing some Goombas and Luigi hiding in a pipe from a Bullet Bill.  I'm not sure what caused the airships to finally go away, as there were windows all around and I couldn't see all of them.  But I have to say they should probably repurpose Toadstool Café into a fortress stronghold if it can withstand all those attacks!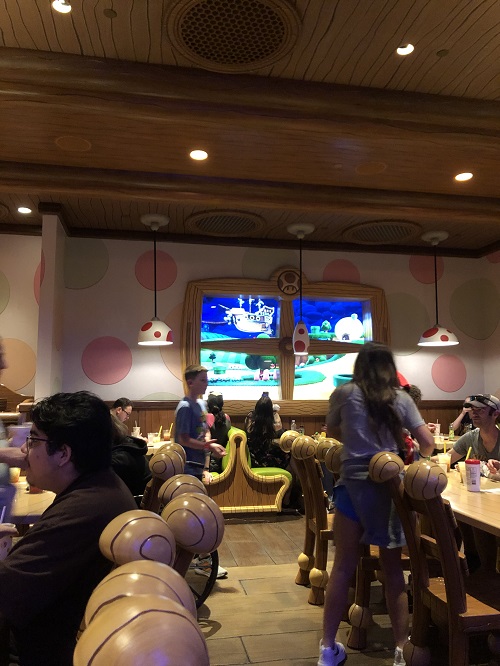 Even though the wait time was way too long and the service wasn't great, at least the food was REALLY GOOD!  So here's some pictures of what we ordered.  We got two appetizers, shared an entrée, and a dessert.  The first was this Piranha Plant Caprese.  This was that tomato and cheese sliced thing you can get at Italian restaurants sometimes.  The Piranha Plant itself was just two tomato slices, cheese for the dots, and a string bean for the stem.  I think I can make that, and I may try to on Mother's Day weekend or so.
The other appetizer we got was the Yoshi's Favorite Fruit and Veggie Salad.  We had to get Yoshi!  The Yoshi eggs were croutons, and it had bits of fruit like strawberry slices and blueberries.  There was even starfruit!  I've only seen and eaten starfruit two other times in my whole life!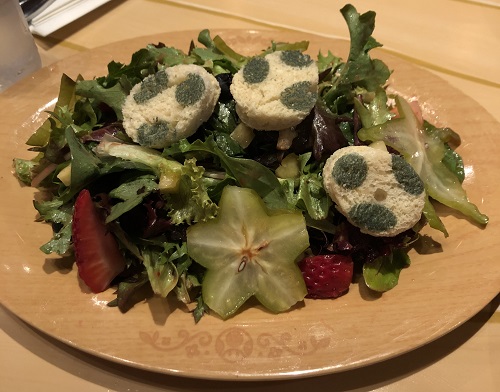 But our big entrée was Bowser's Fireball Challenge!  Since my brother Jeff couldn't go to the park, we got this in honor of him since he adored Bowser when he was a kid.  It was a giant one pound meatball with a Bowser head shaped puff pastry with some really good mushroom sauce at the bottom.  There was even a plastic Bowser flag pick on top, which I kept.  And sorry to spout a typical phrase, but this was one spicy meatball!  It cleared out my sinuses!  You even got some more hot sauce on the side if you wanted to torture yourself.  But even though it was HOT, this was really good, too!  I will say that you probably shouldn't order this for your kids, as I think it would be way too spicy for them.
And finally our dessert.  It was a tiramisu cake with a glob of whipped cream on top surrounded by sugar cookies.  Come to think of it, I'm surprised they didn't have Yoshi's Cookies for dessert!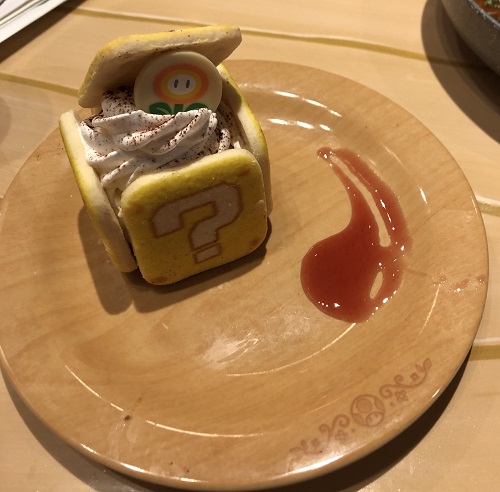 And that's our time at the restaurant.  I'm glad we were able to get in.  For my last article on Super Nintendo World tomorrow, we're going to check out Bowser Jr.'s Secret Lair!  Later!  –Cary